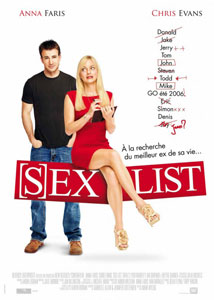 Here's 5 clips from the Anna Faris and Chris Evans film, What's Your Number?
The film, about a woman (Faris) who, having hit her sexual limit at 20 men, decides to track down the other 19 guys in hopes that she's overlooked one who could be "the one" has a great cast – Zachary Quinto, Joel McHale, Andy Samberg, Thomas Lennon and Aziz Ansari – but judging from these clips, I'm skeptical of how it's going to turn out.
And, here's something funny. In France, they've renamed the film to Sex List as you can see in the picture on the right. They should use that name here. It's definitely better than the bland sounding What's Your Number?
Anyway, judge for yourself in the clips below!
Ally (Anna Faris) catches up with a puppeteer
Ally doesn't want to raise your number
Ally goes to Miami for a pap smear
Ally goes to taste some cake
Ally cops an accent