Here's 5 clips from George Lucas' War Would II action flick, Red Tails.
Directed by Anthony Hemingway and starring Terrence Howard, Tristan Wilds, Cuba Gooding Jr. and Bryan Cranston, the film follows the story of the Tuskegee Airmen as they take to the skies to fight for their country — and the fate of the free world.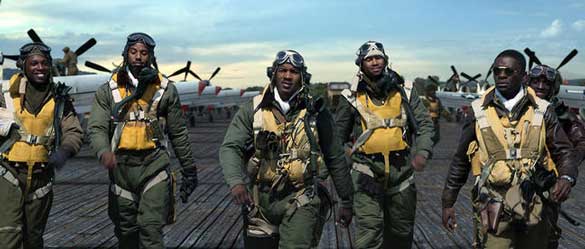 The film has a huge cast; also starring Nate Parker, David Oyelowo, Brandon T. Jackson, Ne-Yo, Method Man, Kevin Phillips, Rick Otto, Lee Tergesen, Andre Royo, Elijah Kelley, Marcus T. Paulk, Michael B. Jordan, Jazmine Sullivan and Gerald McRaney.
It'll be release on January 20th. Check out the clips below!
Lightning (David Oyelowo) shows everyone how to attack at Nazi train
Major Stance (Cuba Gooding Jr.) dresses down Joker (Elijah Kelley)
Major Stance (Cuba Gooding Jr.) gets a new order
Col. A.J. Bullard (Terrence Howard) faces off against Major Mortamus (Bryan Cranston)
Marty (Nate Parker) shoots down a Nazi