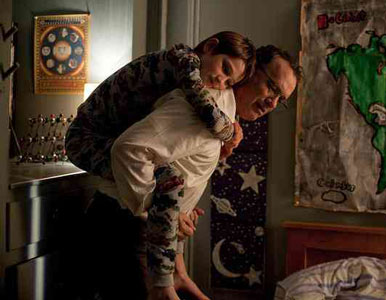 I've talked to a handful of people who've seen Extremely Loud and Incredibly Close and half tell me that they loved it. That they had tears streaming down their face and that the film will definitely get a nomination for a Best Picture at this years Oscars.
The other half tell me that it's predicitable, boring and just plain bad.
I"ll go with the first group and hope that they're right. 
The film, directed by Stephen Daldry, stars Thomas Horn, Tom Hanks, John Goodman, Viola Davis and Jeffrey Wright and is about a boy named Oskar who is convinced that his father, who died in the 9/11 attacks on the World Trade Center, has left a final message for him hidden somewhere in the city. Feeling disconnected from his grieving mother and driven by a relentlessly active mind that refuses to believe in things that can't be observed, Oskar begins searching New York City for the lock that fits a mysterious key he found in his father's closet. His journey through the five boroughs takes him beyond his own loss to a greater understanding of the observable world
It opens on December 25. 
Tom (Tom Hanks) plans a scavenger hunt for his son
Oskar (Thomas Horn) searches for the sixth borough
Tom (Tom Hanks) tells Oskar (Thomas Horn) about a note
Oskar (Thomas Horn) takes a picture