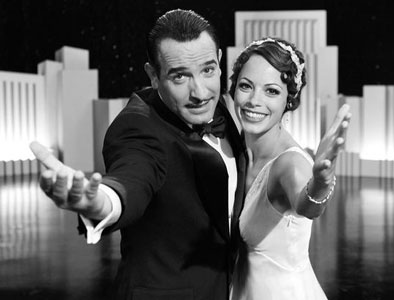 The Artist is getting on a lot of people's Top 10 list's for best movie of the year. I haven't seen it yet but I hear it's great.
It's set in 1927 Hollywood where George Valentin is a silent movie superstar. The oncoming talkies will sound the death knell for his career and see him fall into oblivion but for a young extra, the sky's the limit – major movie stardom. 
It stars Jean Dujardin, Bérénice Béjo, John Goodman, James Cromwell, Penelope Ann Miller and a dog named Uggie (who is so good apparently, people are wanting the Academy to put in a special category for Best Animal Performance in a Film). 
George (Jean Dujardin) tries to placate his wife
George (Jean Dujardin) takes a curtain call
George (Jean Dujardin) dances with Peppy (Berenice Bejo)