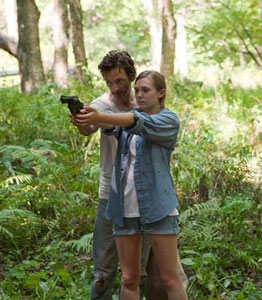 Martha Marcy May Marlene is an outstanding first film from director Sean Durkin and features a couple incredible performances by Elizabeth Olsen and John Hawkes.
The film is about Martha, a young woman (Olsen) who is rapidly unraveling amidst her attempt to reclaim a normal life after fleeing from a cult and its charismatic leader (Hawkes). 
I interviewed both Elizabeth and Sean about the film, her burgeoning career and whole lot more. Look for it soon! 
For the trailer and other clip, click here.
Martha (Elizabeth Olsen) makes a phone call
Martha (Elizabeth Olsen) meets Patrick (John Hawkes)