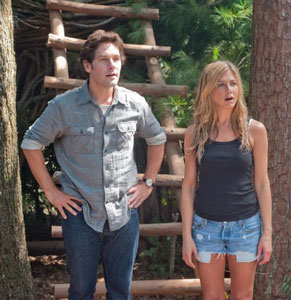 This is one I'm really looking forward to: Wanderlust.
Paul Rudd and Jennifer Aniston star in director David Wain and producer Judd Apatow's film about a couple who leaves the pressures of the big city and joins a freewheeling community where the only rule is to be yourself.
In one of the clips, Rudd tells Malin Ackerman that he's "gonna throw down on you with…my… testicles." Do you need any more incentive to watch?
Director: David Wain
Cast: Paul Rudd, Jennifer Aniston, Justin Theroux, Malin Akerman, Kathryn Hahn, Lauren Ambrose, Ken Marino, Joe Lo Truglio, Kerri Kenney-Silver, Alan Alda
Writers: David Wain, Ken Marino
Look for it on February 24th. 
George (Rudd) learns that maybe a commune isn't the best place to try and show off your guitar skills.
Rudd tries to talk dirty to Malin Akerman