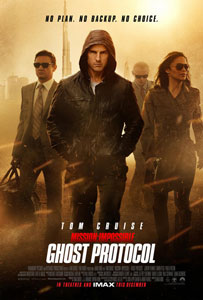 Here are 2 clips and a featurette for the upcoming sequel, Mission: Imposible – Ghost Protocol, starring Tom Cruise and Jeremy Renner. Say what you will, but I really enjoy these movies. They're fun, action packed films that don't talk down to the audience.
I'm wondering though, why the first 2 clips that they release feature Renner and not Cruise. Does he die in this film so Renner can take over the franchise? Hm.
The featurette is a quick segment that shows Cruise dangling, running and walking up the highest building Burj Khalifa, the tallest building in the world. "Just another day at work on Mission Impossible," says Director Brad Bird.
The film comes out December 16th, 2011
Brandt (Jeremy Renner) has some concerns about the plan
Brandt (Jeremy Renner) jumps into a fan
Director Brad Bird films Tom Cruise hanging off the tallest building in the world