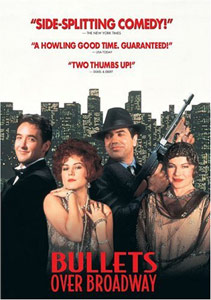 It was announced yesterday that producers Julian Schlossberg and Letty Aronson would bring Woody Allen's 1994 crime-comedy Bullets Over Broadway to… Broadway. 
The show tells the story of an aspiring young playwright newly arrived on Broadway in 1920's New York who is forced to cast a mobster's talentless girlfriend in his latest drama in order to get it produced.
The show, which will be a musical and feature existing music from the era, will have a book by Allen himself and arrives sometime in 2013.
Creative team, dates, theater and casting will be announced shortly.