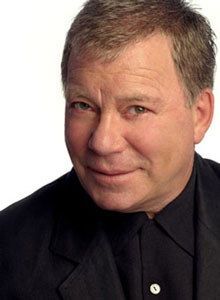 If Wolverine can conquer Broadway, why not Captain Kirk?
William Shatner is coming to the Music Box Theatre in his one-man show, Shatner's World: We Live In It.
But catch him quick because it's a limited run: February 14 – March 4.
Via the Press Release: The two-hour show will take audiences on a voyage through Shatner's life and career, from Shakespearean stage actor to internationally known icon and raconteur, known as much for his unique persona as for his expansive body of work on television and film.
Returning to Broadway and the Music Box for the first time since 1962, Shatner said, "I've been pretty busy since I last played the Music Box. I've been refurbished; I hope the theatre has been too. My plan has always been to return to Broadway every 50 years. I can't ask my fans to wait for me longer than Halley's Comet, so I'm coming back."
All I know is that he better sing Rocket Man. 
Tickets go on sale to the general public on January 21 through www.telecharge.com and are priced from $125 to $37.50. The Music Box Theatre box office opens on January 30.
VIP tickets are available which include a meet and greet with William Shatner, premium seating, limited edition souvenir poster, and an autograph and photo opportunity.
Schedule:
Week beginning February 13 (6 performances)
Tue at 7 PM
Wed – Sat at 8 PM
Sun at 3 PM
Week beginning February 20 (7 performances)
Mon at 8 PM
Tue at 7 PM
Wed – Dark
Thu- Sat at 8 PM
Sat at 2 PM
Sun at 3 PM
Week beginning February 27 (6 performances)
Mon at 8 PM
Tue – Dark
Wed – Dark
Thu – Sat at 8 PM
Sat at 2 PM
Sun at 3 PM