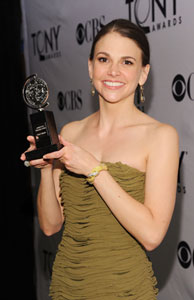 I'm still on the East Coast so this week will be a bit of a chore to update but I didn't too much time to pass without posting some of these great Tony Award moments.
I watched it in a bar in New York that was full of theater lovers and it was just so fun to watch it with them. The only other way that would have been better was if I was in the audience myself.
Anyway, these are some of my favorite moments from the show; including musical numbers, acceptance speeches and backstage interviews.
And be sure to watch what the Best Actor in a Musical, Norbert Leo Butz, did at last night's performance of Catch Me If You Can!
The videos feature Nikki M. James, Trey Parker and Matt Stone, Sutton Foster and more!
Check it out below!
First up in my crush, the wonderfully talented, beautiful, smart and deserving of everything she gets, Sutton Foster. (Did I mention that I have a crush on her?)
Here is her acceptance speech.
Back stage – this looks like it was taken with a camera phone, doesn't it?

Nikki M. James acceptance speech for winning Best Featured Actress in a Musical

Norbert Leo Butz accepting his award for Best Actor in a Musical

Here's a back stage interview

Another back stage interview courtesy of Broadway.com

Here's something very cool: At the curtain call, Butz stops the show and thanks the cast and crew of the show.

Lin-Manuel Miranda, who wrote the rap NPH did at the end of the show, filmed he and Tommy Kail in the basement of the Beacon Theater, writing the closing number. "We totally feel like we're on the West Wing for real," he wrote. NPH and Nikki M. James also stop by.

And here is the rap

How to Succeed in Business without Really Trying star John Larroquette talks his win back stage
Here is the Book of Mormon gang talking in the press room after their win