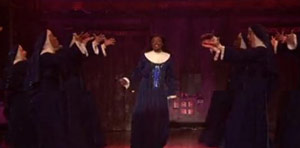 Due to a handful of auditions and going out of town last weekend, I'm a bit backed up on these Late Night with Jimmy Fallon Broadway posts. But, better late than never, right?
The cast of Sister Act performed a medley of songs from the hit show closing out Late Night with Jimmy Fallon's Broadway Week. 
And what a great week it was. Glad to see they did that!
Featuring original music by 8-time Oscar winner Alan Menken (Beauty and the Beast, The Little Mermaid, Little Shop of Horrors), Sister Act, based on the movie of the same name, tells the story of Deloris Van Cartier, a wannabe diva whose life takes a turn when she witnesses a crime and the cops hide her in a convent.
Check it out below.