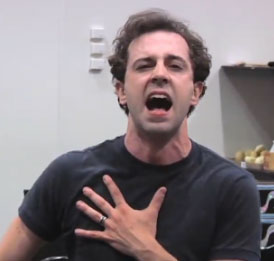 Chaplin, the new musical about the life and times of Charlie Chaplin, begins previews this Tuesday (August 21st) and at a recent rehearsal, the show opened their doors to press to check out some of the numbers.
In this video by Playbill, you can catch a bit of some of the songs from the show as performed by the stars Rob McClure (Chaplin), Jenn Colella (Hedda Hopper), Erin Mackey (Oona O'Neill) and the rest of the company.
I saw this when it was called Limelight at The La Jolla Playhouse and loved it. Star Rob McClure was excellent and I'm so happy that the producers didn't get some "name" actor to replace him. Check out Daily Actor's interview with him here.