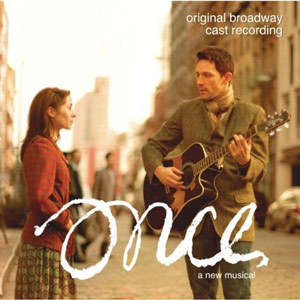 Loved this!
The cast album for Once, the new musical is now featured on NPR's "First Listen." Click here to hear to listen!
The recording will be released on March 13 and you can pre-order it on Amazon.
Once is based on the 2007 Academy Award-winning film will open on Broadway at the Bernard B. Jacobs Theatre (242 West 45th Street) on Sunday, March 18, 2012.
The cast of features Steve Kazee as 'Guy' and Cristin Milioti as 'Girl.' Also in the company are David Abeles, Will Connolly, Elizabeth A. Davis, David Patrick Kelly, Anne L. Nathan, Lucas Papaelias, Ripley Sobo, Andy Taylor, Mckayla Twiggs, Erikka Walsh, Paul Whitty, and J. Michael Zygo.
The new musical is based on the Academy Award-winning film. It tells the story of an Irish musician and a Czech immigrant drawn together by their shared love of music. Over the course of one fateful week, their unexpected friendship and collaboration evolves into a powerful but complicated romance, heightened by the raw emotion of the songs they create together. Brought to the stage by an award-winning team of visionary artists and featuring an ensemble cast of gifted actor/musicians, ONCE is a musical celebration of life and love: thrilling in its originality, daring in its honesty… and unforgettable in every way.
Tickets for the Broadway production are now on sale via Telecharge.com or by phone at 212-239-6200
What are you doing? Go listen!