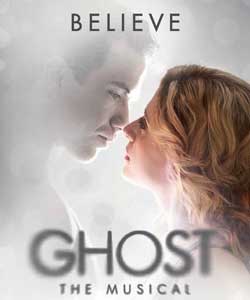 Looks like Ghost The Musical will be another addition to the upcoming Broadway season.
Adapted from the Academy Award winning film that originally starred Patrick Swayze, Demi Moore and Whoopi Goldberg, the show will be based on the same story of Sam, a man who is murdered and is trapped between this world and the next. When he learns his girlfriend Molly, is in danger, he enlists the help of psychic Oda Mae Brown in hopes of saving his true love.
The musical, directed by Tony Winner Matthew Warchus, will begin previews in March 2012 and open in April.
Below is the press release.  
THE NEWEST SMASH MUSICAL IN LONDON'S WEST END TO PLAY A NEDERLANDER THEATER TO BE ANNOUNCED THIS SPRING NEW MUSICAL WITH AN ORIGINAL SCORE BEGINS PERFORMANCES MARCH 2012
OPENING APRIL 2012

Written by Academy Award® Winner

BRUCE JOEL RUBIN (Book/Lyrics),

Grammy Award® & Golden Globe® Winner

DAVE STEWART (Music/Lyrics) &

Six-Time Grammy Award® Winner

GLEN BALLARD (Music/Lyrics)

Directed by Tony Award® Winner

MATTHEW WARCHUS

(New York, NY — August 22, 2011)  The supernatural power of love comes to Broadway this spring as Ghost The Musical, adapted from the Academy Award winning film, opens April, 2012 at a Nederlander Theater to be announced following the success of its London opening.  Previews will begin in March, 2012.  Ghost The Musical, directed by Tony Award winner Matthew Warchus (God of Carnage, The Norman Conquests, Boeing-Boeing), has a brand new, original score by Grammy Award winners Dave Stewart (half of the multi-Grammy Award winning Eurythmics) and Glen Ballard (Michael Jackson's Man In The Mirror, Alanis Morisette's Jagged Little Pill). Bruce Joel Rubin (Ghost, Jacob's Ladder, The Time Traveler's Wife) has adapted his Academy Award winning original screenplay for the stage. The score also includes the iconic song "Unchained Melody," famously performed in the film by The Righteous Brothers.   Broadway casting will be announced at a later date.

"Ghost is a welcome antidote in our age of cynicism.  The story continues to resonate on a very personal level with each person who experiences it, whether laughing or remembering how it feels to truly be in love ," producer Colin Ingram said. "It's such a joy to see this timeless story as a musical that deeply affects both those who cherish it and those who are seeing it for the first time."

"It has been my honor to be a part of the team given the opportunity to create a musical around this powerful love story," composer Dave Stewart said. "Imagining a love strong enough to bridge this world and the afterlife is fertile ground on which to build a big, romantic musical.  Imagine a love that strong.  We are all very excited to introduce the musical to Broadway.  It's been one of the most amazing experiences of my career."

Ghost recently opened in London's West End at the Piccadilly Theatre on July 19, 2011 and has moved audiences to cheers and tears nightly ever since.  Here's what the critics said:

 

"««««"

Daily Express, Metro, The London Times, Time Out, Daily Telegraph,

Bloomberg News, The Sun, OK! Magazine

 

"A dazzling display of undying love – resistance is futile!"

– The Times of London

 

"Magical!  Ghost looks set to keep audiences laughing,

gasping and holding back tears for a long time to come."

– Daily Telegraph

 

"A new West End hit has landed.  Gleaming stage-craft, 

full-throttle heartache and beguiling special effects."

– Time Out

 

"Gasp-inducing ingenuity and technical wizardry make

Ghost The Musical an unearthly hit!"

– Evening Standard

 

"Genuinely moving, brilliantly funny!"

– Sunday Telegraph

 

"Simply out of this world!"

– The Sun

 

"Genuine theatrical magic!"

– Front Row, BBC Radio 4

 

"A production of spectacular visual dynamism!"

– Independent

 

"A visual sensation that thrills, amazes and pulls at the heart strings.

Ghost should run for years and years to come!"

– OK! Magazine

Ghost The Musical is a timeless fantasy about the power of love. Walking back to their apartment one night, Sam and Molly are mugged, leaving Sam murdered on a dark street. Sam is trapped as a ghost between this world and the next and unable to leave Molly who he learns is in grave danger. With the help of a phony storefront psychic, Oda Mae Brown, Sam tries to communicate with Molly in the hope of saving and protecting her.

Set and costume designs are by Rob Howell, choreography is by Ashley Wallen with musical supervision and arrangements by Christopher Nightingale, illusions by Paul Kieve, lighting design by Hugh Vanstone and projection design by Jon Driscoll.

Ghost The Musical will be produced on Broadway by Colin Ingram Productions Limited and David Garfinkle with Adam Silberman; Land Line Productions, Donovan Mannato, Michael Edwards & Carole Winter in association with Paramount Pictures Corporation and ATG/Robert G. Bartner.

Nominated for an Academy Award for Best Film in 1990, Ghost The Musical became a blockbuster hit and an instant classic, winning numerous awards worldwide. The film starred Patrick Swayze, Demi Moore, Tony Goldwyn and Whoopi Goldberg and was directed by Jerry Zucker. Bruce Joel Rubin's script won an Academy Award for Best Original Screenplay and Whoopi Goldberg won the Academy Award for Best Actress in a Supporting Role for her portrayal of psychic Oda Mae Brown.

Prior to its West End run, Ghost The Musical played a seven-week, critically-acclaimed engagement at the Opera House in Manchester, England from March 28 through May 14, 2011.

Ticket information, including on sale date and point of purchase, will also be announced at a later date.