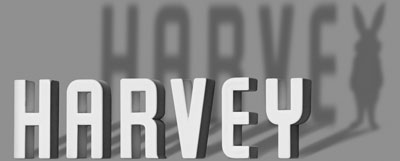 The casting details have been finalized for the Roundabout Theatre Company's new Broadway production of Harvey.
As has been previously announced, Jim Parsons will star as Elwood P. Dowd alongside Jessica Hecht (Veta Louise Simmons) and Charles Kimbrough (William R. Chumley, M.D.).
New additions are Larry Bryggman (Judge Omar Gaffney), Carol Kane (Betty Chumley), Peter Benson (E.J. Lofgren), Tracee Chimo (Myrtle Mae Simmons), Holley Fain (Ruth Kelly, R.N.), Angela Paton (Mrs. Ethel Chauvenet), Rich Sommer (Duane Wilson) and Morgan Spector (Lyman Sanderson, M.D.).
I played Sommer's part – Duane Wilson – in my Elementary School's production of Harvey. I was brilliant! A 12 year old playing the part of a 35-year-old male orderly. Acting!
The show will be directed by Scott Ellis.
Performances of Harvey will begin on May 18th, 2012 on Broadway at Studio 54 (254 West 54th Street) with the official opening set for June 14th, 2012. The limited engagement is scheduled to run through August 5th, 2012.
Tickets are available by calling Roundabout Ticket Services at (212)719-1300 or online at www.roundabouttheatre.org. Beginning Monday, April 2nd tickets can be purchased at the Studio 54 box office (254 West 54th Street). Ticket prices range from $37.00-122.00
Harvey will play Tuesday through Saturday evenings at 8:00PM with a Wednesday, Saturday and Sunday matinee at 2:00PM.
About the cast:
JIM PARSONS (Elwood P. Dowd). Two-time Emmy winner and Golden Globe® Award winner Jim Parsons continues to bring a winning combination of indelible charm, charisma and comedic timing to his roles on screen and on stage, establishing himself as one of Hollywood's leading men. In 2011 and in 2010, Parsons won an Emmy for Outstanding Lead Actor in a Comedy Series and in 2011 he won the Golden Globe for Best Performance by an Actor in a Television Series – Comedy or Musical for his hilarious work as Sheldon Cooper on CBS's hit comedy "The Big Bang Theory." He also received a People's Choice nomination for Favorite TV Comedy Actor in 2011 and was recently nominated again in 2012. He also received the NAB Television Chairman's Award, which honors significant breakthroughs in television, during the 2010 conference in Las Vegas. In addition, Parsons recently won the award for Best Actor in a Comedy Series by the Broadcast Television Journalists Association for its very first Critics' Choice Television Awards. Parsons received a Theatre World Award for his debut Broadway performance as Tommy Boatwright in The Normal Heart, starring opposite Ellen Barkin, John Benjamin Hickey, and Joe Mantello. The Normal Heart won a Tony Award for Best Revival of a Play and was presented with the Drama Desk Award for Outstanding Revival of a Play and Outstanding Ensemble Performance. The Normal Heart also received nominations from the Outer Critics Circle for Outstanding Revival of a Play, as well as five Tony Award nominations. Parsons also guest starred in an episode of the hit Nickelodeon sitcom "iCarly" starring Miranda Cosgrove, during its fourth season. He can also be seen in the critically acclaimed and box office hit film The Muppets currently in theaters. In 2009, "The Big Bang Theory" won Best Television Comedy at the People's Choice Award, was selected as an AFI nominee and also won the TCA award for Outstanding Achievement in Comedy. Parsons has been nominated two years in a row (2009 and 2010) for the TCA Award for Individual Achievement in Comedy, in addition to winning the award in 2009. TV GUIDE calls Parsons "a marvelous discovery, creating the most hysterical misfit since Monk." "The Big Bang Theory" has helped CBS launch their Thursday night comedy line-up, regularly winning the night across all networks. Additional film credits include David Frankel's The Big Year, opposite Owen Wilson and Steve Martin, Todd Phillips School for Scoundrels opposite Billy Bob Thorton and Jon Heder as well as Chris Terrio's Heights opposite Glenn Close and James Marsden for Merchant/Ivory. He has also created scene stealing roles in several independent films such as Zach Braff's Garden State, Kevin Connolly's Gardner of Eden and Danny Leiner's The Great New Wonderful. Parsons has performed in many stage productions including The Castle for the Manhattan Ensemble Theater, The Countess for the Globe Theater as well as The Tempest and As You Like It for the Houston Shakespeare Festival. Parsons has earned a Masters in Fine Arts degree from the Old Globe Theater/University of San Diego and a BA from the University of Houston. He currently resides in Los Angeles.
JESSICA HECHT (Veta Louise Simmons) just completed filming The English Teacher, a comedy with Julianne Moore, Greg Kinnear, and Nathan Lane. She portrays the famous anarchist "Emma Goldman" in J. Edgar with Leonardo DiCaprio for director Clint Eastwood for Warner Brothers. She will be seen in 2012 with Morgan Freeman in The Summer of Monte Wildhorn directed by Rob Reiner and as Jonah Hill's mother in The Sitter for 20th Century Fox. Her other films include Helena From the Wedding an ensemble drama from Beech Hill Films and appeared in Fair Game with Naomi Watts and Sean Penn, The Winning Season opposite Sam Rockwell, My Soul to Take directed by horror master Wes Craven. She also appeared with Larry David in Woody Allen's Whatever Works, Dan in Real Life with Steve Carrell, Starting out in the Evening with Frank Langella, Sideways with Paul Giamatti, The Forgotten with Julianne Moore, and The Grey Zone directed by Tim Blake Nelson. Ms. Hecht's television work is extensive and most recently includes the HBO pilot "Spring/Fall"; a recurring role opposite Ted Danson on "Bored to Death" as well as a recurring role on the Emmy nominated cable hit "Breaking Bad"(AMC) opposite Bryan Cranston. Well known for her 5 season recur as "Susan" on "Friends" (NBC), she starred with Jonathan Silverman in "The Single Guy" (NBC) and with Joan Cusack in "What about Joan?" (ABC) created by James Brooks. Equally adept in drama or comedy, her many memorable performances include appearances on "The Good Wife", "Nurse Jackie", "CSI", "Medium", "ER", "Law & Order", "Law & Order" SVU", "Homicide: Life on the Street", "Seinfeld" and "Jesse Stone: Thin Ice" with Tom Selleck. Ms. Hecht completed her eighth season at the world famous Williamstown Theatre Festival where she performed as "Blanche" opposite Sam Rockwell's "Stanley" in Tennessee Williams' A Streetcar Named Desire, directed by David Cromer. One of New York's most respected stage actors, Jessica is proud to have been nominated for the 2010 Tony Award for her performance as "Beatrice" in Arthur Miller's A View from the Bridge in which she starred with fellow nominees Liev Schreiber and Scarlett Johanssen. She recently appeared in the revival of Neil Simon's award winning play Brighton Beach Memoirs. Her other Broadway credits include Arthur Miller's After the Fall (Roundabout Theatre Company), Shakespeare's Julius Caesar opposite Denzel Washington and the world premiere of the Tony Award winning The Last Night of Ballyhoo. Her many Off-Broadway starring roles include Three Sisters with Maggie Gyllenhaal (Classic Stage Co.), Make Me (Atlantic Theater), The House in Town (Lincoln Center) Stop, Kiss (The Public), Lobster Alice and Plunge (Playwrights Horizons), Flesh and Blood (N.Y. Theater Workshop) and The Fourth Sister (Vineyard Theatre). Jessica lives in New York with her husband, Adam Bernstein, and two wonderful children, Stella and Carlo.
CHARLES KIMBROUGH (William R. Chumley, M.D.) NY Philharmonic: My Fair Lady. Encores: No, No Nanette. Select Broadway: The Merchant of Venice, Accent on Youth, HayFever, Sunday in the Park…, Company (Tony Nomination), Cop-Out, Candide, Same Time, Next Year; The Water Engine. Off-Broadway: The Fourth Wall, Tartuffe, Sylvia, Later Life, Drinks Before Dinner, All in Love. TV: "Murphy Brown" (Emmy Nomination), "Ally McBeal," "The Nanny," "Family Guy," "The Love Boat – The Next Wave," "The Recovery Room," "Concealed Enemies," "Kojak." Film: Marci X, The Wedding Planner, The Good Mother, Switching Channels.
LARRY BRYGGMAN (Judge Omar Gaffney). Broadway: Twelve Angry Men, Proof (Tony nom.), Picnic (Tony nom.), Prelude to a Kiss, Richard lll, The Basic Training of Pavlo Hummel, Festen. Off Broadway: includes Edward Albee's Occupant, Groundswell. Romance (Obie), CQ/CX, The Collection & A Kind Of Alaska, 10×25 One Acts, Hothouse, Once in a Lifetime (all Atlantic), Proof, New England (MTC), Prelude and Liebestod (MCC), A Bad Friend, Bodies Rest and Motion (LCT), King Lear, Henry Vlll, The Tempest, As You Like It, Henry lV Parts l and ll, Coriolanus, Rum and Coke, The Ballad of Soapy Smith, Museum, Marco Polo Sings a Solo, Mod Donna (all The Public). Film: Spy Game, Die Hard with a Vengeance, And Justice For All, Looking for Richard, Side By Each, Family Games. An Obie for Sustained Excellence. Two Daytime Emmys for Outstanding Actor. Mr. Bryggman is a member of the Atlantic Theatre Company.
CAROL KANE (Betty Chumley) made her theatre debut in the 1966 production of The Prime of Miss Jean Brodie starring Tammy Grimes. Since then she has appeared on the New York Stage both on and off-Broadway. Plays include Beth Henley's Family Week, and The Debutant Ball. She co-starred with Gena Rowland's in the John Cassavettes play, Woman of Mystery directed by John Cassavettes. At Lincoln Center for Joe Papp her performances include The Tempest and Macbeth as well as many other plays at the Public Theatre, including Wasp and Other Plays by Steve Martin. She starred alongside Shelley Winters on Broadway in The Effect of Gama Rays, on Man-in-the-Moon Marigolds. In addition Kane has been seen on Broadway and Los Angeles, starring as MadameMorrible in Wicked. Last year as Kane was seen as Gingy in Nora & Delia Ephron's off-Broadway hit, Love, Loss, and What I Wore (NY and LA). Most recently she was see in Ian Rickson's West End production of The Children's Hour with Keira Knightly, Elisabeth Moss and Ellen Burstyn. Kane made her film debut in Mike Nichols' Carnal Knowledge, other films include, Wedding in White co-starring with Donald Pleasence,,The Last Detail for Director Hal Ashby, Dog Day Afternoon, Director Sidney Lumet, Annie Hall diected by Woody Allen, The Lemon Sisters co-starring Diane Keaton and Katherine Grody, The Princess Bride, Director Rob Reiner, Scrooged Director Dick Donner, My Blue Heaven written by Nora Ephron, as well as Steve Buscemi's Tres Lounge, Adams Family Values, When a Stranger Calls, Flashback starring Dennis Hopper, The Worlds Greatest Lover co-starring Gene Wilder, and The Muppet Movie just to name just a few. Most recently Kane's performed in Mike Birbiglia's Sleep Walk With Me , the film was awarded the Best of NEXT award at the Sundance Film Festival. Kane was nominated for an Oscar for best actress for her performance in Joan Micklin Silver's film Hester Street. Her television credits include: Simka, wife of Latka (Andy Kaufman) on the television series "Taxi." For which she won two Emmy awards. "Pearl," "All Is Forgiven" and "Chicago Hope" where she garneed another Emmy nomination. She was seen as Richard Belzer's ex-wife on "Law & Order: SVU," as well as the television series "Two and Half Men."
PETER BENSON (E.J. Lofgren). Broadway: Promises, Promises, To Be or Not To Be, The Pajama Game, Wonderful Town, Cabaret, Little Me, American Daughter, State Fair. Theatre: Distracted (Roundabout), Birth & Afterbirth (Atlantic), Country Club (Drama Dept.) Maddening Truth (Keen Co.) Television: "Unforgettable," "Good Wife," "Too Big To Fail," "Louie," "Oz, Ed," "Law & Order," "Hi Honey I'm Home." Film: Adjustment Bureau, A Perfect Murder.
TRACEE CHIMO (Myrtle Mae Simmons) originated the roles of Jenny and Gigi in The Break of Noon (MCC), Reagan in Bachelorette (Second Stage) and Lauren in Annie Baker's Circle Mirror Transformation (Playwrights Horizons). She's the recent recipient of the 2011 Clarence Derwent Award for 'Most Promising Actress in New York' and earned herself a 2010 Drama Desk Award, OBIE Award, and two Lucille Lortel nominations in the last 2 years. Tracee just shot her first film, Judd Apatow's The Five Year Engagement, opposite Jason Segel and Emily Blunt, which is due out in Spring 2012. She can also be seen in "He's Way More Famous Than You" opposite Halley Feiffer and Ben Stiller, and as Dylan in MTV's new series I Just Want My Pants Back.
HOLLEY FAIN (Ruth Kelly, R.N.) is thrilled to be working with The Roundabout again after making her Broadway debut in Present Laughter. Off-Broadway: Frank's Home (Playwrights Horizons, dir. Robert Falls); Measure for Measure (Pearl Theatre). Regional: Present Laughter (Huntington Theatre, dir. Nicholas Martin); Frank's Home (Goodman); The Merry Wives of Windsor (Shakespeare Theatre of New Jersey; As You Like It, Julius Caesar (North Carolina Shakespeare). TV: "Grey's Anatomy," "Memphis Beat," "The Mentalist," "The Good Wife," "Gossip Girl," "Law & Order: CI," "Lipstick Jungle." Film: Forgetting the Girl, One Night, Blinders. Training: BFA, University of Illinois, Champaign-Urbana.
ANGELA PATON (Mrs. Ethel Chauvenet). Theatre: 50's & 60's One-Acts (Mark Taper Forum), The Marriage of Bette and Boo (LATC), Passion (Morosco Theatre), Long Days Journey Into Night (Anita Theatre), The Seagull, The Crucible, The Importance of Being Earnest, Twelfth Night, Our Town, Hamlet, Six Characters In Search of An Author (A.C.T. San Francisco), Antony and Cleopatra, Happy Days, Curse of the Starving Class, The Goodwoman of Setzuan (Berkeley Stage Theatre). Film: The Final Season, Katie, Valley of Light, It Happened in Paradise, Red Eye, Clean Slate, American Pie 3, And the Band Played On, Die Mommy Die, Groundhog Day, The Wedding Singer, The Last of His Tribe, Home for the Holidays, The Doctor, Lolita, Blue Sky, Eye For An Eye, Flatliners. TV: "My Name is Earl," "The War At Home," "Thirtysomething," "Kings of New York," "Identity Crisis," "Numb3rs," "That's Life," "Becker," "Boston Public," "First Monday," "Players," X-Files," "Cracker," "Sliders," "Ink," "Dharma & Greg," "Pascagoula," "George and Leo," "Paulie Dodge," "The Tom Show," "The Client," "The Lee Evans Pilot," "Cybill," "Caroline in the City," "Home Improvement," "Home Court," "Star Trek: Voyager," "Murderous Passion," "Doctor, Doctor," "ER," "Dear John," "Picket Fences," "Cop Rock," "NYPD Blue," "Nurses," "Doogie Howser, M.D.," "Wings," "Criminal Behavior," "Falcon Crest," "Murphy Brown," "The Night Stalker," "Crazy from the Heart," "Winnie," "The Wonder Years," "Shannon's Deal," L.A. Law," "Roe vs. Wade."
RICH SOMMER (Duane Wilson) is best known as 'Harry Crane' on the multiple Emmy, Golden Globe & SAG Award winning television series, "Mad Men." He has appeared in some of television's most popular series, including a recurring role on "The Office," "Curb Your Enthusiasm," "Law & Order, CSI," "Nikita," "Ugly Betty" and "Burn Notice." Rich made his feature film debut as Anne Hathaway's drinking buddy 'Doug' in The Devil Wears Prada. Recently, he has completed work on the feature films Fairhaven opposite Sarah Paulson and Chris Messina and The Giant Mechanical Man with Jenna Fischer and Topher Grace. A student, performer and teacher of improvisation, he received his training and experience with The Brave New Workshop in Minneapolis and the Upright Citizens Brigade in New York. He received his Bachelor's Degree in Theatre Arts from Concordia College in Moorhead, MN and went on to study at Case Western Reserve University in Cleveland, OH, where he received his Master of Fine Arts Degree in Acting. Rich and his "Mad Men" cast mates have twice won the SAG Award for Outstanding Performance by an Ensemble in a Drama Series. Rich Sommer and his wife, Virginia, live in Los Angeles with their two children.
MORGAN SPECTOR (Lyman Sanderson, M.D.) made his Broadway debut as 'Rodolfo' in the 2010 revival of Arthur Millers' A View from the Bridge directed by Gregory Mosher, in which he performed opposite Jessica Hecht, Scarlett Johansson and Liev Schrieber. His career has taken off in these 2 short years since, including performances in three independent films, two critically acclaimed plays, and a network television guest star. He received rave reviews along with the stellar cast for his performance as 'Boris' in Russian Transport, directed by Scott Elliott Off Broadway at The New Group. Director Susan Seidelman's film Musical Chairs will be released this March in which Morgan performs a flashy role as a wheelchair bound competitive ballroom dancer. His other films include M. Night Shyamalan's The Last Airbender, as well as indies Burning Blue and Grand Street, yet to be released. His other theatre credits include 'Scar' in the national tour of The Lion King; Dissonance (Bay Street); Yank!, a workshop directed by David Cromer; Enemies: A Love Story (Wilma Theatre) and A Christmas Carol (ACT). Recently seen on television in "Person of Interest" (CBS), he has also appeared on "Law & Order: CI" and "How to Make it in America" (HBO). Morgan is a graduate of Reed College and the American Conservatory Theatre M.F.A. program.
SCOTT ELLIS (Director). Broadway: Curtains (Tony nom.), The Little Dog Laughed (Drama League nom.), Steel Pier (Tony nom.; DD, OCC awards). For Roundabout Theatre Company: Twelve Angry Men (Tony, DD noms., OCC and DD awards, Best Revival), The Man Who Had All the Luck, The Boys From Syracuse, The Rainmaker, 1776 (Drama Desk, Tony nom., Best Director), She Loves Me (Tony nom.; DD, OCC awards), Picnic (OCC nom.), Company, A Month in the Country. London: She Loves Me (Olivier Award). Off-Broadway: Gruesome Playground Injuries, The Understudy, Streamers; Good Boys and True; Entertaining Mr. Sloane; The Waverly Gallery; The Dog Problem; That Championship Season; Dark Rapture; And the World Goes 'Round: The Songs of Kander and Ebb (DD, OCC awards); and Flora, the Red Menace (DD nom). NYC Opera: 110 in the Shade, A Little Night Music (also L.A. Opera). TV: "Modern Family," "Two Broke Girls," "Frasier," "30 Rock" (Emmy nom., Best Director), "Weeds" (Executive Producer), "The Good Wife," "Hung," "The Closer." Mr. Ellis is the Associate Artistic Director of Roundabout Theatre Company.