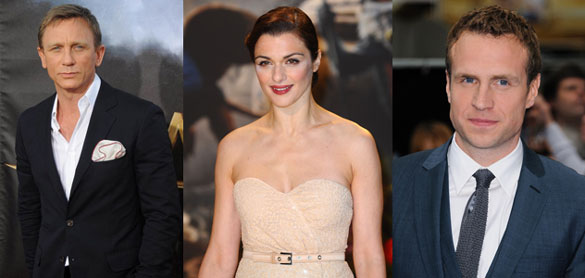 Daniel Craig, Rachel Weisz and Rafe Spall, will star on Broadway in Harold Pinter's Betrayal, directed by ten-time Tony Award-winner Mike Nichols.
Both Weisz and Spall will be making their Broadway debuts.
The show will begin performances on Tuesday, October 1st at the Barrymore Theatre (243 West 47th Street).  Opening night is Sunday, November 3rd.
It will run only 14 weeks, through January 5th, 2014.
Betrayal originally premiered at London's National Theatre in 1978 and was immediately hailed as one of Pinter's masterworks, winning the 1979 Olivier Award for Best New Play and the New York Drama Critics Circle Award for Best Play (Foreign).  In the play, Emma (Rachel Weisz) is married to Robert (Daniel Craig), a publisher, but she has long had an affair with Jerry (Rafe Spall), a literary agent and Robert's best friend; as, in a brilliant device, time is regained, so the full complexity of their relationships comes to light.
Cast bios:
Daniel Craig (Robert) returns to Broadway for the first time since starring opposite Hugh Jackman in A Steady Rain in 2009.  Last year, Craig returned as James Bond for the third time, in the critically acclaimed box office smash Skyfall.  Craig has also starred as Bond in Quantum of Solace and Casino Royale.  In 2011, Craig starred in The Girl with the Dragon Tattoo, directed by David Fincher.  Craig's earlier film credits include The Power of One, Obsession, Love and Rage, Road to Perdition, Layer Cake, Infamous, and Steven Spielberg's Oscar®-nominated film Munich.  Craig's additional theatre credits include leading roles in Hurlyburly with the Peter Hall Company at the Old Vic, Angels in America at the National Theatre, and A Number at the Royal Court, opposite Michael Gambon.
Rachel Weisz (Emma) will make her Broadway debut in BETRAYAL.  Weisz received overwhelming critical praise and a Screen Actors Guild Award, Golden Globe Award, and Academy Award for Best Supporting Actress for her performance in The Constant Gardener in 2005.  In 2012, she received a Golden Globe nomination for her highly acclaimed performance in Terence Davies' The Deep Blue Sea.  Her performance also earned her Best Actress awards from the New York Film Critics Circle and the Toronto Film Critics Association.  Weisz currently stars as Evanora in Sam Raimi's Oz: The Great and Powerful, opposite James Franco and Michelle Williams.  Her recent film credits include Tony Gilroy's The Bourne Legacy, the indie political drama The Whistleblower, Jim Sheridan's thriller Dream House (opposite Daniel Craig), as well as David Hare's Page Eight alongside Bill Nighy and Ralph Fiennes, for the BBC.  Previous film credits include Stealing Beauty; Swept from the Sea; I Want You; The Land Girls; The Mummy; The Mummy Returns; Enemy at the Gates; About a Boy; Runaway Jury; Confidence; Constantine; The Fountain; My Blueberry Nights; Fred Claus; The Brothers Bloom; Definitely, Maybe; Agora; and The Lovely Bones. Weisz won the 2010 Olivier Award for her performance as Blanche DuBois in the West End revival of A Streetcar Named Desire.  She received critical acclaim for Focus Features' The Shape of Things, which also marked her first venture into producing.  She had previously starred in writer/director Neil LaBute's staging of his play of the same name in both London and New York. Her performance in Sean Mathias' U.K. staging of Noel Coward's Design for Living garnered her the London Drama Critics Circle Award for Outstanding Newcomer.  She also starred in the West End production of Suddenly, Last Summer, also directed by Mathias.
Rafe Spall (Jerry) will make his Broadway debut in BETRAYAL.  He has most recently been seen on stage at the Royal Court and then at the Duke of York's in Constellations opposite Sally Hawkins, for which he has been nominated for an Olivier Award for Best Actor.  In 2012, Spall appeared in Ridley Scott's Prometheus alongside Michael Fassbender and Charlize Theron, as well as in Ang Lee's award-winning film, Life of Pi.  Earlier this year, Spall starred in the lead role in Working Title's romantic comedy, I Give It a Year, which will be released in the U.S. by Magnolia Pictures.  Spall's earlier film credits include Shaun of the Dead, Hot Fuzz, Anonymous, and One Day.  Spall's other theatre credits include Just a Bloke at the Royal Court, The Knight of the Burning Pestle, Michael Grandage's production of John Gabriel Borkman at the Donmar Warehouse, and If There Is I Haven't Found It Yet at The Bush. For television, Spall has starred as the lead in Channel 4's popular comedy "Pete Versus Life," as well as in "The Shadow Line" and "Desperate Romantics."