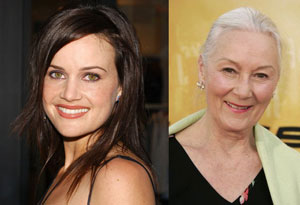 Carla Gugino, Rosemary Harris (Aunt May in Spider-Man) and Jim Dale are set to star in the Broadway premiere of Athol Fugard's The Road To Mecca.
The show will begin previews on December 16th and opens January 17th, 2012 at the American Airlines Theatre.
Gugino made her Broadway debut in Roundabout's 2004 revival of Arthur Miller's After The Fall.
And good news, if there's any trouble in the production with Harris, Spider-Man will swing from the FoxWoods Theatre and save the day.
About the show: "Set in the region of South Africa known as the Karoo, The Road to Mecca tells the story of an elderly woman who has spent the years since her husband's death transforming her home into an intricate and dazzling work of art.  The reclusive Miss Helen (Rosemary Harris) has become depressed and appears increasingly unable to care for herself.  Pastor Marius Byleveld, who embodies the village's conservative values, is determined to get Miss Helen into an old-age home.  Her friend Elsa (Carla Gugino), a young teacher from Cape Town who is deeply suspicious of the patriarchal traditions Byleveld represents, is just as determined that Miss Helen remain free."
The press release is below.
ROUNDABOUT THEATRE COMPANY

Announces

Rosemary Harris     Carla Gugino

and

Jim Dale

to star in Broadway premiere production of

THE ROAD TO MECCA

By Athol Fugard

Directed by Gordon Edelstein

 Previews will begin December 16, 2011; opening night will be January 17, 2012

Broadway at the American Airlines Theatre

Click here for a Q&A with Artistic Director Todd Haimes about the production.

Roundabout Theatre Company (Todd Haimes, Artistic Director) is pleased to present Tony Award® winner Rosemary Harris as "Miss Helen," Carla Gugino as "Elsa Barlow" and Tony Award® winner Jim Dale as "Marius Byleveld" in the Broadway premiere production of Athol Fugard's play The Road To Mecca, directed by Gordon Edelstein.

The Road to Mecca will begin previews on December 16 and open officially on January 17, 2012 at the American Airlines Theatre on Broadway (227 West 42nd Street). This will be a limited engagement through March 4th, 2012.

The design team includes Michael Yeargan (Sets), Susan Hilferty (Costumes) and John Gromada (Original Music and Sound Design).

Roundabout's production of The Road to Mecca will begin Athol Fugard's 80th birthday celebration which will continue in February 2012 at Signature Theatre Company.  Signature will launch their theatre's new home, Signature Center with Athol Fugard as its inaugural Residency One playwright.  Residency One is Signature's core one year playwright-in-residence program that produces a series of plays from the body of work of one accomplished writer.  Throughout the season, Signature will explore the works of Fugard, the South African playwright, director and actor, who also was honored with a special Tony Award for Lifetime Achievement at the Tony Awards this past season.  Roundabout's production of The Road to Mecca is by special arrangement with Signature Theatre Company.

Athol Fugard's "Master Harold"…and the Boys was produced at Roundabout in 2003.  The world premiere production of The Road to Mecca at the National Theatre in London and at the Promenade Theatre off-Broadway was directed by Mr. Fugard.  Mr. Fugard played the role of "Marius Byleveld" in both productions which won the 1988 Drama Critics' Circle Award for Best Foreign Play.

Gordon Edelstein has the distinguished honor of having directed Roundabout's first Broadway production 20-years ago: Harold Pinter's The Homecoming at the Criterion Center.   Gordon returns to Roundabout having most recently directed the critically acclaimed production of The Glass Menagerie (2010) and Martin McDonagh's A Skull in Connemara (2001). 

Rosemary Harris was last seen on the Roundabout stage in Edward Albee's All Over (2002).  Carla Gugino made her Broadway debut at Roundabout in Arthur Miller's After the Fall (2004) and returned to star in Tennessee Williams' Suddenly Last Summer (2006).  Jim Dale received Tony Award nominations for both of his performances at Roundabout: Joe Egg (1985) and The Threepenny Opera (2006).

Set in the region of South Africa known as the Karoo, The Road to Mecca tells the story of an elderly woman who has spent the years since her husband's death transforming her home into an intricate and dazzling work of art.  The reclusive Miss Helen (Rosemary Harris) has become depressed and appears increasingly unable to care for herself.  Pastor Marius Byleveld, who embodies the village's conservative values, is determined to get Miss Helen into an old-age home.  Her friend Elsa (Carla Gugino), a young teacher from Cape Town who is deeply suspicious of the patriarchal traditions Byleveld represents, is just as determined that Miss Helen remain free. 

TICKET INFORMATION:

Only Roundabout subscribers have first access to tickets.  To become a Roundabout Subscriber, visit PERFORMANCE SCHEDULE:

The Road to Mecca will play Tuesday through Saturday evening at 8:00PM with Wednesday, Saturday and Sunday matinees at 2:00PM.

BIOGRAPHIES:

ROSEMARY HARRIS (Miss Helen) was born in England but brought up in India.  She graduated from RADA with the Bancroft Gold Medal when she was directed by Mary Duff in The Heiress.  Her first job in the London theatre was understudying and looking after Nellie the greyhound in The Gay Dog at the Piccadilly Theatre.  She then made her London debut in the The Seven Year Itch having already starred in Moss Hart's Climate Of Eden on Broadway.  Following a season at the Bristol Old Vic playing Elizabeth Proctor in the British premier of The Crucible she joined the London Old Vic to play Desdemona opposite Richard Burton in Othello followed by Cressida in Tyrone Guthrie's production of Troilus And Cressida.  When Ellis Rabb formed APA in 1960 she joined the Company and appeared in productions of works by Shakespeare, Shaw, Sheridan, Chekhov, Isben, Wilde, Pirandello and Kaufman and Hart at the Lyceum Theatre on Broadway.  She also played the title role in Peter Pan.  In 1962 she appeared in Laurence Olivier's Company at the Chichester Festival Theatre for their first season in the The Broken Heart and Chances and returned the following year for Uncle Vanya. In 1964 she joined the National Theatre to play Ophelia opposite Peter O'Toole in Laurence Olivier's inaugural production of Hamlet followed by IIyena in his production of Uncle Vanya.  In 1967 she created the part of Eleanor of Aquitane in The Lion In Winter on Broadway for which she won a Tony Award and in 1969 she was awarded the Evening Standard Award for Best Actress for her performance in Plaza Suite. In 1970 she appeared opposite Jack Lemmon in Idiot's Delight at the Ahmanson Theatre in Los Angeles, in 1971 she played Anna in Peter Hall's production of Old Times on Broadway, 1973 she played Blanche in A Streetcar Named Desire and Portia in the The Merchant Of Venice at the Lincoln Centre Repertory Theatre directed by Ellis Rabb, in 1975 she played Julie Cavendish in Royal Family on Broadway, 1980 she played Madame Arkadina in The Seagull at the Public Theater in New York followed by the Three Sisters and New York Idea at the Brooklyn Academy of Music, in 1982 she appeared in All My Sons in the West End in Heartbreak House with Rex Harrison and Diana Rigg at the Haymarket playing Ariadne Utterwood.  She appeared in Heartbreak House on Broadway, again with Rex Harrison but in this production she played Hesione Hushabye.  She then played Barbara Jackson in Pack Of Lies on Broadway.  In 1985 she spent six weeks at Oxford University lecturing to American drama students after which she returned to Broadway to play Judith Bliss in Hayfever.  In July 1986 she opened at the National Theatre in The Petition with John Mills which then transferred to the Wyndhams Theatre.  In 1987, she appeared in The Best Of Friends at the Apollo Theater co-starring with Sir John Gielgud and Ray McNally.  In 1989, she starred in Steel Magnolias with Miranda Richardson at the Lyric.  She starred in the Lyric Hammersmith's production of In The Summerhouse.  In 2002, she starred in a highly acclaimed run of Edward Albee's All Over at the Roundabout in NYC.  Her numerous television credits include "Notorious Woman" in which she played George Sand for which she was awarded an Emmy for best actress.  She was awarded Golden Globe for her portrayal of Berte Weiss.  She also appeared in a television special entitled "The Chisholms" in which she co-starred with Robert Preston and "To The Lighthouse" adapted from Virginia Wolf's novel where she played Mrs. Ramsey.  She also was in "Strange Interlude".  She then completed a BBC play, "Summer Day's Dream" with Sir John Geilgud, directed by Christopher Morahan.  Her films include The Boys from Brazil with Greogory Peck and Laurence Olivier, Beau Brummel, A Flea in her Ear,  The Shiralee, The Ploughman's Lunch, Sunshine, Tom and Viv, Being Julia.  Spider-Man 1, 2 and 3, Before The Devil Knows Your Dead directed by Sidney Lumet and most recently This Means War opposite Reese Witherspoon and Chris Pine.  She still lectures regularly at Oxford University and is married to the novelist John Ehle and they have a daughter Jennifer who is also an actress (Possession 2002).

CARLA GUGINO (Elsa Barlow).  After graduating from high school as class valedictorian, Carla Gugino began a memorable and provocative acting career which today, continues to showcase her many talents and considerable beauty.  Gugino was last seen in the major motion picture Mr. Poppers Penguins alongside Jim Carrey and Angela Lansbury. The comedy tells the story of a businessman's struggle to maintain his professional life after inheriting six penguins. The film was released on June 17, 2011.  Prior to Mr. Popper's Penguins, Gugino was seen in the Warner Bros. / Legendary drama Suckerpunch where she reunited with Watchmen director Zack Snyder. This film centers around a girl who's institutionalized by her wicked stepfather and retreats into an alternative reality as a coping strategy. Starring alongside Abbie Cornish, Emily Browning, and Jon Hamm, Gugino plays a nurse in the insane asylum who becomes a madam at a brothel in the film's alternate reality.  Recently, Gugino filmed New Year's Eve alongside Sarah Jessica Parker, Robert De Niro, Halle Berry, Josh Duhamel and Jessica Biel. The romantic comedy is directed by Garry Marshall and is slated to release on December 9, 2011.  Gugino starred as 'Abby Rhodes' in the fourth season of Showtime's Emmy award-winning "Californication" as the love interest for David Duchovny's Hank Moody. She was also seen in the HBO hit series "Entourage." The series follows an up-and-coming actor, Vince Chase as he navigates his career in Hollywood. Gugino joined the cast in its fourth season as Vince Chase's new agent 'Amanda Daniels' after he fired his longtime agent played by Jeremy Piven. "Entourage" has continued its success among critics and fans and has earned multiple awards and nominations.  Gugino also starred in Faster alongside Dwayne Johnson and Billy Bob Thornton. The action-packed crime drama was directed by George Tillman Jr. and was released November 24, 2010.  Gugino was seen in Elektra Luxx which was directed by and written by Sebastian Gutierrez. This film was the sequel to last year's Women In Trouble which was also directed by Gutierrez. The film premiered at SXSW on March 14th and was next screened at the GenArt Film Festival on April 9th. Gugino was also seen in Every Day with Liev Schreiber and Helen Hunt. The film premiered at the Tribeca Film Festival on April 24th, 2010.  Gugino appeared on Broadway in Desire Under the Elms, a play by Eugene O'Neil and directed by Tony Award recipient Robert Falls. The show ran at the award winning Goodman Theatre in Chicago, IL and was picked up for a Broadway run thanks to rave reviews. Gugino received incredible reviews for her stellar performance as Abbie, an alluring and headstrong woman who knows what she wants.  Gugino was also seen in the film Watchmen, based on the celebrated DC Comic novel. Zack Snyder (300) directed the film, which also starred Jeffrey Dean Morgan, Malin Akerman, Billy Crudup, Patrick Wilson, Matthew Goode and Jackie Earle Haley. The film grossed $181 million worldwide.  Following Watchmen, Gugino starred in Race To Witch Mountain, opposite Dwayne Johnson. The action adventure, from Walt Disney Pictures, was directed by Andy Fickman (The Game Plan) and advanced from the plot of the 1975 Disney favorite, Escape To Witch Mountain. The film opened at #1 at the box office.  Gugino starred opposite Robert DeNiro and Al Pacino in the film Righteous Kill. This crime drama follows to New York City policemen in search of a serial killer. Righteous Kill opened wide and has continued its success in the box office.  In 2007, Gugino starred in the critically acclaimed American Gangster opposite Russell Crowe and Denzel Washington under the direction of Ridley Scott, and The Lookout opposite Joseph Gordon-Levitt.  Gugino also starred in the Spy Kids trilogy of movies opposite Antonio Banderas and had a scene-stealing performance in Robert Rodriguez's Sin City.  In 2006, Gugino starred opposite Ben Stiller in Night At The Museum, which was the highest grossing film of that year.  Other television credits include her critically acclaimed performances as a government recruit on the CBS series "Threshold" and as the title character in the ABC series "Karen Sisco," based on the Elmore Leonard novel Out Of Sight. Roles in shows like "Chicago Hope" and the ABC sitcom "Spin City" showcased Gugino's wide range of talents in both drama and comedy.  Gugino completed a critically lauded performance as Catherine Holly opposite Blythe Danner in a Roundabout Theater Company production of the Tennessee Williams' classic Suddenly Last Summer.  She made her Broadway debut in Roundabout's 2004 revival of Arthur Miller's After The Fall.  For her performance, she received many accolades, including an Outer Critics' Circle Award nomination and a Theater World award for Outstanding Broadway Debut for her role Maggie.  Gugino's film career began auspiciously as she landed a role in the now iconic Troop Beverly Hills.  From there, Gugino would go onto roles in Son In Law, This Boy's Life opposite Robert DeNiro and Leonardo DiCaprio, Miami Rhapsody opposite Sarah Jessica Parker, Michael opposite John Travolta, Snake Eyes in which she starred alongside Nicolas Cage under Brian De Palma's direction, and The Singing Detective opposite Robert Downey, Jr, Robin Wright Penn, and Jeremy Northam.  Gugino currently resides in Los Angeles.

JIM DALE (Marius Byleveld).  As a Broadway stage actor, Jim has won a Tony Award (Barnum), five Tony nominations (Candide, Scapino, Joe Egg, Barnum, Threepenny Opera), four Drama Desk Awards, four Outer Critics Awards and the Lucille Lortel Award.  He was nominated for an Academy Award for writing the lyrics for the song "Georgy Girl."  He was nominated for a BAFTA Academy Award (Best Newcomer) for Adolph Hitler – My Part in His Downfall.  As an audiobook  narrator, he has won two Grammy Awards, seven Grammy nominations, and a record ten Audie Awards including Narrator of the Year (2001, 2005, 2007, 2008) and Audio Book of the Year 2004.   He has narrated all seven Harry Potter books and been awarded two Guinness World Records; One for creating 146 different character voices for Harry Potter and the Deathly Hallows and a second for occupying the first six places in the Top Ten Audiobooks of America.  He was the first inductee into the Audio Hall of Fame and recently was inducted into the American Theatre Hall of Fame.  In 2003 Queen Elizabeth II honored Jim with the Member of the Order of the British Empire.

GORDON EDELSTEIN (Director) has directed over a hundred plays, musicals, and operas all across the U.S. as well as Europe. Most recently his acclaimed production of The Glass Menagerie played the Roundabout Theatre and the Mark Taper Forum and was the recipient of the Lucille Lortel Award for Best Revival. For the Roundabout he also directed the American Premiere of A Skull In Connemara by Martin McDonaugh and Harold Pinter's The Homecoming (with Roy Dotrice and Lindsay Crouse). Other NY work includes: Richard Nelson's Some Americans Abroad (Second Stage), the premiere of BFE by Julia Cho (Playwrights Horizons), The Day The Bronx Died by Michael Henry Brown, and many others. Upcoming projects include the world premiere of Sophie's Choice (Long Wharf Theatre), starring Carla Gugino, the world premiere of Dael Orlandersmith's Horsedreams (Rattlestick), and The Crucible (Hartford Stage).  He is entering his tenth year as Artistic Director of Long Wharf Theatre (New Haven, CT) where he has recently begun an association with Athol Fugard, directing the premieres of his most recent work: Coming Home, Have You Seen Us? (starring Sam Waterston), and The Train Driver. His directing work at Long Wharf has been recognized by six Connecticut Critics Circle Awards as well as the Tom Killian Award for Outstanding Artist in the State.  Before Long Wharf, he served for five years as Artistic Director of ACT in Seattle. He has directed regionally from Washington, DC's Arena Stage to Alaska's Perseverance Theatre, including such plays as Uncle Vanya (also adapted), Mourning Becomes Elektra (also adapted), The Crucible (Wall Street Journal Best Regional Production of the Year), Death Of A Salesman, A Doll's House (also adapted), The Front Page, A Moon For The Misbegotten, We Wont Pay, We Wont Pay, Betrayal, Blithe Spirit, You Cant Take It With You, Hay Fever, and premieres of A Scent Of The Roses (Julie Harris) and A New War by Gippe Hoppe. He recreated his production of The Day The Bronx Died with a British cast at London's Tricycle Theatre and he did the same for his production of The Crucible with a Romanian cast at the National Theatre in Romania.  He directed both La Traviata and La Boheme for Connecticut Grand Opera and the world premiere of two operas: The Wild Goose Circus at Pennsylvania Opera Theatre and Black Water at the Opera America Festival.  He received an Emmy Nomination for his directing of "Abby My Love" for CBS Television and directed "Street Smart" for HBO and "Notes For My Daughter" for ABC-TV.  He has taught directing and acting at NYU, Brown University, and Cornish College for the Arts and has guest lectured at several universities around the country including Yale, Harvard, Carleton and Grinnell Colleges.

ATHOL FUGARD (Playwright) is a South African playwright, novelist, actor and director best known for his political plays opposing the South African system of apartheid.  He is the recipient of many awards, honors and honorary degrees, including the government of South Africa's Order of Ikhamanga in Silver "for his excellent contribution and achievements in the theatre" (2005), and he is an Honorary Fellow of the Royal Society of Literature. His plays include:  No-Good Friday, Non-Gogo, Blood Knot, Hello and Goodbye, People Are Living There, Boesman and Lena, Statements After an Arrest Under the Immorality Act, Sizwe Banzi Is Dead, Dimetos, The Island, A Lesson From Aloes, Master Harold…and the boys, The Road to Mecca, A Place With the Pigs, My Children!  My Africa!, Playland, Valley Song, The Captain's Tiger, Sorrows & Rejoicings, Exits and Entrances, Victory, Coming Home, and Have You Seen Us?.  He has been seen on stage in South Africa, London, Broadway, off-Broadway, and regional theatre in the U.S.  Film credits include The Road to Mecca, Gandhi, The Killing Fields, Meetings With Remarkable Men, Marigolds In August, Boesman and Lena, and The Guest.  In 2006, the film adaptation of his novel Tsotsi was awarded the Oscar for Best Foreign Language Film. He is married to the novelist and poet Sheila Fugard. Their daughter, Lisa Fugard, is also a novelist.  Athol's latest works, The Train Driver (2010) and The Bird Watchers (2011), debuted at the newly built Fugard Theatre in Capetown, South Africa.

Roundabout Theatre Company is a not-for-profit theatre dedicated to providing a nurturing artistic home for theatre artists at all stages of their careers where the widest possible audience can experience their work at affordable prices. Roundabout fulfills its mission each season through the revival of classic plays and musicals; development and production of new works by established playwrights and emerging writers; educational initiatives that enrich the lives of children and adults; and a subscription model and audience outreach programs that cultivate loyal audiences. 

Roundabout Theatre Company currently produces at four theatres each of which is designed specifically to enhance the needs of the Roundabout's mission.  Off-Broadway, the Harold and Miriam Steinberg Center for Theatre, which houses the Laura Pels Theatre and Black Box Theatre, with its simple sophisticated design is perfectly suited to showcasing new plays. The grandeur of its Broadway home on 42nd Street, American Airlines Theatre, sets the ideal stage for the classics.  Roundabout's Studio 54 provides an exciting and intimate Broadway venue for its musical and special event productions.  The Stephen Sondheim Theatre offers a state of the art LEED certified Broadway theatre in which to stage major large scale musical revivals. Together these distinctive homes serve to enhance the work on each of its stages.

American Airlines is the official airline of Roundabout Theatre Company. Roundabout productions are made possible, in part, with public funds from the New York City Department of Cultural Affairs and the New York State Council on the Arts, celebrating 50 years of building strong, creative communities in New York State's 62 counties.

Roundabout Theatre Company's 2010-2011 season features Anything Goes starring Sutton Foster & Joel Grey, directed & choreographed by Kathleen Marshall; Stone, Meehan & Yeston's Death Takes a Holiday, directed by Doug Hughes.  Roundabout Theatre Company's 2011-2012 season features Bob Fosse's Dancin', directed by Graciela Daniele;  Terence Rattigan's Man & Boy, starring Frank Langella, directed by Maria Aitken; Stephen Karam's Sons of the Prophet, directed by Peter DuBois; Andrew Hinderaker's Suicide, Incorporated, directed by Jonathan Berry and John Osborne's Look Back in Anger, directed by Sam Gold.