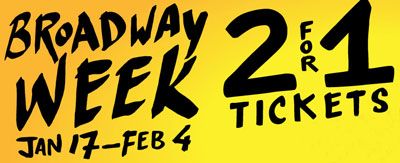 Once again, NYC & Company, the city's marketing, tourism and partnership organization is partnering with Broadway to offer two-for-one tickets to more than 20 Broadway (and Off-Broadway) shows.
Broadway Week starts January 17th and runs through February 4th. Check out the list below of the shows that are on the list.
Off-Broadway Week will offer the same deal but from that starts on January 30th running through February 12th. Some of the shows include Carrie, Rent, SILENCE! The Musical and Avenue Q. 
List of shows currently offered:
Anything Goes
Chicago The Musical
Chinglish
The Gershwins' Porgy and Bess
Godspell
Jersey Boys
Mamma Mia
Mary Poppins
Memphis
On a Clear Day You Can See Forever
Phantom of the Opera
Priscilla Queen of the Desert
Relatively Speaking
The Road to Mecca
Rock of Ages
Seminar
Sister Act
Spider-Man: Turn Off the Dark
Stick Fly
Wit