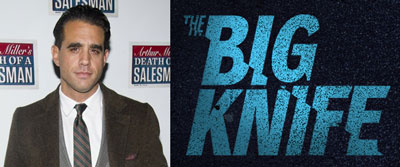 Roundabout Theatre Company just announced that their new Broadway production of Clifford Odets' The Big Knife will star Emmy® Award winner and Tony Award® nominee Bobby Cannavale.
The show, directed by Tony Award winner Doug Hughes, is set in the golden age of Hollywood cinema where actors may have all the glory, but studio execs have all the power. The Hoff-Federated Studio has had its most successful star, Charlie Castle, over a barrel ever since it helped cover up a mistake that could have ended his career. When a woman with insider knowledge threatens to come forward, the studio heads will stop at nothing to protect Charlie's secret… but how far is he willing to go before he quits the movie business for good?
Sounds good and anything with Cannavale I will absolutely see. And now I have another play to read. I'll just add it to my growing list.
This is the first new Broadway production since The Big Knife premiered on Broadway in 1949, directed by Lee Strasberg.
The show will begin previews on March 22, 2013 and open officially on April 2013 at the American Airlines Theatre on Broadway (227 West 42nd Street). This will be a limited engagement through June 2, 2013.
The full cast & design team will be announced soon.