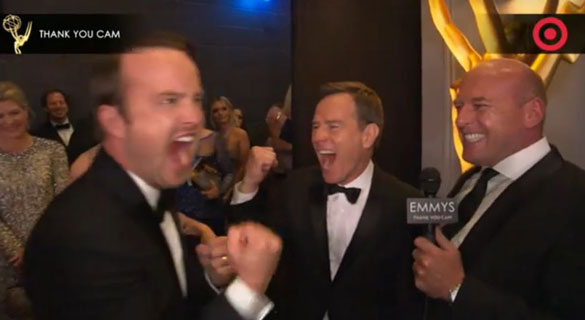 Breaking Bad won the Emmy for Outstanding Drama series last night and it was absolutely deserved. I have no idea why Bryan Cranston didn't win as Best Actor in a Drama Series though. He's perfect and while the other actors in the category were very, very good, Cranston is on another level this year.
After the win, the cast and creators walked backstage to the Emmy 'Thank You' cam and while it starts off relatively tame, with Bob Odenkirk taking the mike and doing some quick interviews, things start to escalate when Aaron Paul and Dean Norris get there. But when Jonathan Banks walks up, he turns the dial up to 11.
"How many shots are we going to do tonight!?," asks Norris.
Cranston, creator Vince Gilligan, Betsy Brandt, Anna Gunn and RJ Mitte are all there and it's great! I've watched a lot of 'Thank You' cams over the past couple of years but this one may be the best. Like, the best ever. You can tell that they all love each other and it's fantastic to watch.
Check it out below!