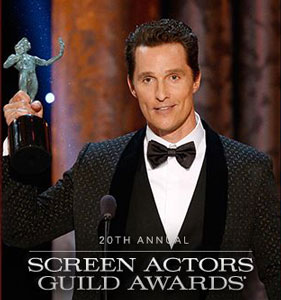 Here are all of the acceptance speeches from last nights Screen Actor Guild Awards. I had a show last night so if you're like me, this was the first time you were able to watch the speeches. I honestly had no idea they were on last night… that's because I'm well-informed!
I thought they were all pretty terrific but my favorites were from Ty Burrell and Matthew McConaughey.
Check them all out below!
Lupita Nyong'o, Female Actor In A Supporting Role
Jared Leto, Male Actor In A Supporting Role
Julia Louis-Dreyfus, Female Actor In A Comedy Series
Ty Burrell, Male Actor In A Comedy Series
Modern Family, Ensemble in a Comedy Series
Helen Mirren, Female Actor In A Television Movie Or Miniseries
Michael Douglas, Male Actor In A Television Movie Or Miniseries
Bryan Cranston, Male Actor In A Drama Series
Breaking Bad, Ensemble In A Drama Series
Matthew McConaughey, Male Actor In A Leading Role
Cate Blanchett, Female Actor In A Leading Role
American Hustle, Cast In A Motion Picture