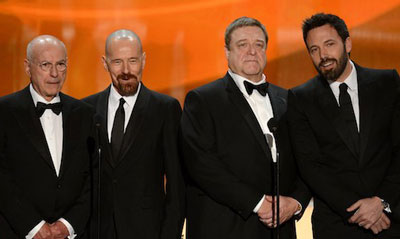 The SAG Awards are always, I think, the classiest of all the awards shows. Plus, they clock in at 2 hours and everyone is always happy to be honored by their peers.
Here are all of last night's acceptance speeches, including Daniel Day-Lewis, Jennifer Lawrence and Anne Hathaway and my favorite one of the night, Ben Affleck.

Check them out below!
Argo – Outstanding Cast in a Motion Picture
Female Actor in a Leading Role – Jennifer Lawrence in "Silver Linings Playbook"
Male Actor in a Leading Role – Daniel Day Lewis in "Lincoln"
Dick Van Dyke – SAG Lifetime Achievement Award
Anne Hathaway – Outstanding Performance by a Female Actor in a Supporting Role
Modern Family – Ensemble in a Comedy Series
Downtown Abbey – Outstanding Performance by an Ensemble in a Drama Series
Claire Danes – Outstanding Performance by a Female Actor in a Drama Series
Bryan Cranston – Outstanding Performance by a Male Actor in a Drama Series
Julianne Moore – Outstanding Performance by a Female Actor in a Television Movie and Miniseries
Tina Fey – Outstanding Performance by a Female Actor in a Comedy Series
Alec Baldwin – Outstanding Performance by a Male Actor in a Comedy Series