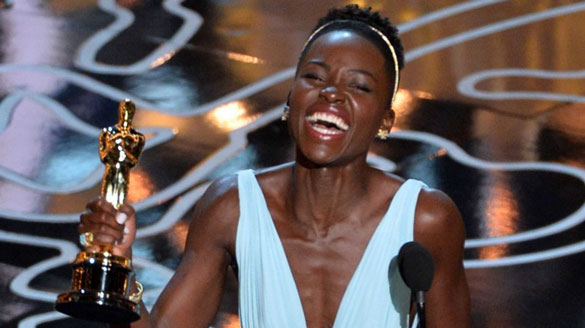 Lupita Nyong'o. Jared Leto. Cate Blanchett. Matthew McConaughey.

They had a night to remember, didn't they? Each won Academy Awards last night for the excellent work and below are their speeches with a small portion of each transcribed.
My favorite was from Lupita Nyong'o. Such joy and happiness. McConaughey's was pretty terrific as well… giving the full-on McConaughey.
Check the all out below!
Lupita Nyong'o – Actress in a Supporting Role
"Yes! Thank you to the Academy for this incredible recognition. It doesn't escape me for one moment that so much joy in my life is thanks to so much pain in someone else's. And so I want to salute the spirit of Patsey for her guidance.
I want to thank my family for your training and the Yale School of Drama as well for your training.
When I look down at this golden statue, may it remind me and every little child that no matter where you're from your dreams are valid." – Lupita Nyong'o
Jared Leto – Actor in a Supporting Role
"To all the dreamers out there around the world watching this tonight in places like the Ukraine and Venezuela, I want to say we are here and as you struggle to… to make your dreams happen, to live the impossible… We're thinking of you tonight." – Jared Leto
Cate Blanchett – Actress in a Leading Role
 "And finally, I would like to thank every single member of the Sydney Theatre Company, one of the great theater companies in the world. For me, working on Blue Jasmine, it was a real synthesis of my work in the theater and on film. And not only working with you for the last six years has been the most enormous privilege of my career but it's made me a better actress." – Cate Blanchett

Matthew McConaughey – Actor in a Leading Role
"And to my hero. That's who I chase. Now when I was 15 years old, I had a very important person in my life come to me and say "who's your hero?" And I said, "I don't know, I gotta think about that. Give me a couple of weeks." I come back two weeks later, this person comes up and says "who's your hero?" I said, "I thought about it. You know who it is? It's me in 10 years." So I turned 25. Ten years later, that same person comes to me and says, "So, are you a hero?" And I was like, "not even close. No, no, no." She said, "Why?" I said, "Because my hero's me at 35." So you see every day, every week, every month and every year of my life, my hero's always 10 years away. I'm never gonna be my hero. I'm not gonna attain that. I know I'm not, and that's just fine with me because that keeps me with somebody to keep on chasing." – Matthew McConaughey