SAG-AFTRA Life Achievement Award Recipient Dick Van Dyke on his Long and Wonderful Career (video)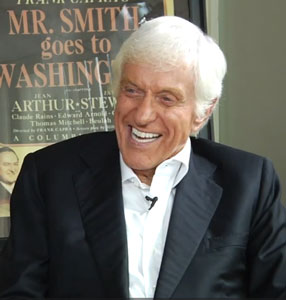 The SAG-AFTRA Life Achievement Award is given for "outstanding achievement in fostering the finest ideals of the acting profession" and I can't think of a better choice to receive this years award than Dick Van Dyke.
I remember coming home from school and instead of going outside and playing with friends and being healthy, I stayed in and watched reruns of the Dick Van Dyke Show. I devoured the show and his films (Mary Poppins, Chitty Chitty Bang Bang) and have him to blame for my doughy body.
In the interview below, SAG-AFTRA Co-President Ken Howard talks with Van Dyke about his career, from the beginning, his show and moving up to his films and more. He's got great stories and if you are remotely interested in him, you should definitely watch it.
The 19th Annual Screen Actors Guild Awards® airs on TNT and TBS on Sunday, Jan. 27, 2013, at 8 p.m. ET, 7 p.m. CT, 6 p.m. MT and 5 p.m. PT.
Check it out below!
http://www.dailyactor.com/wp-content/uploads/2015/10/Bridge-of-Spies-Tom-Hanks-Mark-Rylance.jpg
Tom Hanks on Working with Steven Spielberg and Mark Rylance in 'Bridge of Spies'
"Steven does this incredible thing when he casts you: He empowers you with the scene." - Tom Hanks on Steven Spielberg
http://www.dailyactor.com/actors-on-acting/tom-hanks-working-steven-spielberg-mark-rylance-bridge-of-spies/
http://www.dailyactor.com/wp-content/uploads/2015/09/Tom-Hardy-Legend.jpg
Tom Hardy on Playing Twins in 'Legend,' Being Seen as a Tough Guy, and Working with Philip Seymour Hoffman
Hardy speaks about why he challenged himself to play twins, what he thinks of his tough guy image, and working with the late Philip Seymour Hoffman, who directed him on stage.
http://www.dailyactor.com/actors-on-acting/tom-hardy-playing-twins-legend/
http://www.dailyactor.com/wp-content/uploads/2015/09/Emily-Blunt-Sicario.jpg
Emily Blunt on Action Movie Roles: "I think it's important to show different layers. Nobody is just tough, nobody is just vulnerable"
Emily Blunt touches upon why she has gotten into roles with an action bent and why she thinks there aren't more action movies with female leads
http://www.dailyactor.com/actors-on-acting/emily-blunt-sicario-acting-layers/
http://www.dailyactor.com/wp-content/uploads/2015/09/Jorja-Fox-CSI.jpg
Jorja Fox on Life After 'CSI': "I've always enjoyed not knowing exactly where the road leads"
"I think you kind of have to embrace the unknown if you're an actor." - Jorja Fox
http://www.dailyactor.com/actors-on-acting/jorja-fox-life-after-csi/
http://www.dailyactor.com/wp-content/uploads/2015/09/John-Turturro-Mia-Madre.jpg
John Turturro on the Life of an Actor: "It's a rough business. I wouldn't want my kids to do it"
"I am usually very well prepared. If you're a surgeon, you've got to know what you're going to take out today." - John Turturro
http://www.dailyactor.com/actors-on-acting/john-turturro-life-of-an-actor/