Cynthia Nixon on the Challenges of a British Accent and Playing Evil in 'World Without End'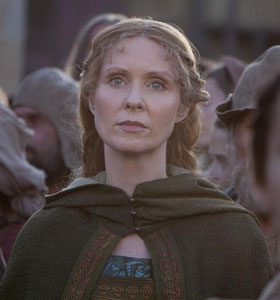 Sex and the City's Cynthia Nixon has taken on a whole new world in the upcoming ReelzChannel's mini-series that has been adapted from the works of author Ken Follett.  Entitled World Without End, Nixon has traded in her glamorous life with Carrie Bradshaw and the girls for a more devilish role.  In the $46 million dollar production Nixon plays Petranilla, a killer and master manipulator living in the 14th century in the midst of the Hundred Years' War with Black Death looming in the air.
Speaking with The Hollywood Reporter about her challenging role, Nixon explains that the dramatically different character is what drew her in. "It's such a wonderfully juicy part and also such a departure. I've never played anything quite like this. I might have played a couple slightly villainous people in my time, but I've never playing anyone this evil yet seemingly sweet and helpless on top of it. I haven't murdered a lot of people in my roles."
The British accent was also a challenge for Nixon.  "I have had to do that before, but I've never had to do it surrounded by other people with real English accents. That was a challenge. We had a vocal coach who I worked with transatlantically before I arrived [for the shoot]. Before filming, [I worked on it] quite intensively. She was there every day watching filming, and if something was wrong to ear after a particular take, she'd jump right up and attack it." 
The 46-year old actress shared that there were other demands she has to meet while  tackling the role of Petranilla.  "I would say the most challenging thing was making sure to plot carefully what was happening to Petranilla episode by episode and chart that out in my own mind. I had to make sure it would build, so all of the character of Petranilla would really evolve and change. I didn't want to be completely a dastardly person at the beginning."
World Without End airs Wednesdays at 8pm.
http://www.dailyactor.com/wp-content/uploads/2016/08/Will-Chase-Something-Rotten.jpg
The Role That Got Away: Will Chase on Returning to 'Something Rotten!'
"I know that I am a poor man's fill-in-the-blank. And I know that there are poor man's Will Chases out there. That's just the nature of the business" - Will Chase
http://www.dailyactor.com/actors-on-acting/will-chase-something-rotten-role-that-got-away/
http://www.dailyactor.com/wp-content/uploads/2016/08/Julia-Stiles-Jason-Bourne.jpg
Julia Stiles on the Jason Bourne Series and Growing as an Actress: "There's always room for improvement"
"I like a director that encourages me to be playful. I don't really like being restricted or controlled by a director." - Julia Stiles
http://www.dailyactor.com/actors-on-acting/julia-stiles-growing-as-an-actress/
http://www.dailyactor.com/wp-content/uploads/2016/08/Michael-Kenneth-Williams-The-Night-Of.jpg
Michael Kenneth Williams on How His Roles Impact Him: "That energy's gotta go somewhere"
Since his days of playing Omar on 'The Wire', Williams has learned how to separate himself from his characters.
http://www.dailyactor.com/actors-on-acting/michael-kenneth-williams-the-night-of/
http://www.dailyactor.com/wp-content/uploads/2016/08/margot-robbie-the-wolf-of-wall-street.jpg
Margot Robbie Believed 'The Wolf of Wall Street' Would Ruin Her Career
Many actors can point to a single role that was a career breakthrough -- but not all of them realize that it's a breakthrough as it's happening.
http://www.dailyactor.com/actors-on-acting/margot-robbie-the-wolf-of-wall-street-ruin-her-career/
http://www.dailyactor.com/wp-content/uploads/2016/08/Jonah-Hill-War-Dogs.jpg
Jonah Hill Talks 'War Dogs' and Getting into Character by Listening to Music
"When I started taking acting classes, it was the first time teachers were like, 'You're good and you should keep doing this.'" - Jonah Hill
http://www.dailyactor.com/actors-on-acting/jonah-hill-war-dogs/