William H. Macy on Playing Frank in 'Shameless': "It is more like a parlor trick. It ain't acting"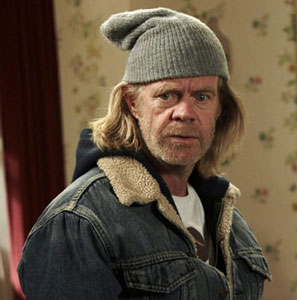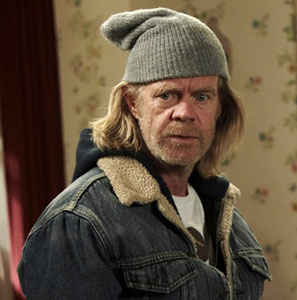 I've been particularly impressed by William H. Macy's performance as Frank Gallagher on Showtime's Shameless, mostly because it's so much different from roles Macy usually plays.  However, as Macy tells the New York Post, he doesn't think it takes a whole lot of talent to play Frank.
He explains that playing Frank "is more like a parlor trick.  It ain't acting.  As a matter of fact, one of the dangers in playing Frank Gallagher is that I walk away congratulating myself on being a great drunk — but I forgot to do the scene."
However, Macy admits that Frank's hard-drinking ways hasn't rubbed off on him.  When asked if playing Frank has changed his own drinking habits, Macy says, "I haven't been drinking recently. So, I guess no."
In fact, Macy confesses that he hopes Frank will one day sober up for good.  He explains, "I am his biggest supporter. I love the guy. I think he is smart. I think he tells the truth when nobody else has the guts to. He is very hardworking. He is an entrepreneur. And he is living his life absolutely his way. I am hoping we are going to do this show for many, many years. So I think there is room for many permutations of what Frank does. But yeah. I would love to see a couple of episodes where Frank is sober. But I think it is in the DNA of the show that Frank will always be loaded."
http://www.dailyactor.com/wp-content/uploads/2016/02/david-harewood-supergirl.jpg
David Harewood on 'Supergirl' and How He Was "Struggling to Get a Handle" on His Character
Harewood reveals how he relates to the character and how he eventually got comfortable playing him.
http://www.dailyactor.com/actors-on-acting/david-harewood-supergirlstruggling-to-get-a-handle-on-his-character/
http://www.dailyactor.com/wp-content/uploads/2016/01/Jeff-Daniels.jpg
Jeff Daniels Remembers a Terrible Audition for a Diane Keaton Movie
One actor that knows the ups and downs of the audition process is Jeff Daniels.
http://www.dailyactor.com/actors-on-acting/jeff-daniels-terrible-audition-diane-keaton-movie/
http://www.dailyactor.com/wp-content/uploads/2016/02/Jennifer-Jason-Leigh-The-Hateful-Eight.jpg
Jennifer Jason Leigh on Her First-Ever Oscar Nomination: "It's kind of phenomenal"
"He knew that I could, in his words, 'act the … out of it' and I'm not afraid to take a risk in terms of acting" Jennifer Jason Leigh on Quentin Tarantino
http://www.dailyactor.com/actors-on-acting/jennifer-jason-leigh-oscar-nomination/
http://www.dailyactor.com/wp-content/uploads/2016/02/Forest-Whitaker-Hughie-Broadway.jpg
Forest Whitaker on Making His Broadway Debut in 'Hughie': "His rhythms are starting to invade inside of me"
"I want to get better as an actor, to keep trying to work harder, trying to discover something different" - Forest Whitaker
http://www.dailyactor.com/actors-on-acting/forest-whitaker-broadway-debut-hughie/
http://www.dailyactor.com/wp-content/uploads/2016/02/alicia-Vikander-Ex-machina.jpg
Alicia Vikander on the Her First Trip to L.A. and the Acting Tip 'Ex-Machina' Director Alex Garland Gave Her
"You [get immersed in] a film and of course you think that that is it. And then you go away and you read a new script and you have a new crush" - Alicia Vikander
http://www.dailyactor.com/actors-on-acting/alicia-vikanderacting-tip-ex-machina-director-alex-garland-gave-her/