WGN America is Ready To Take on Cable with Three Original Series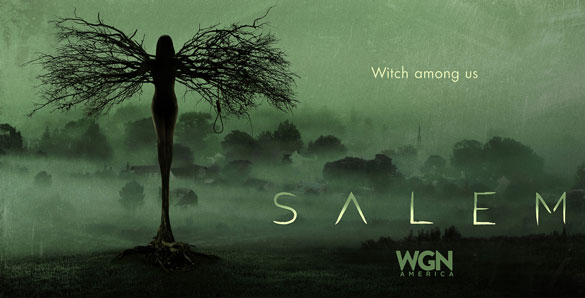 With the Winter Television Critics Association previews going on right now, it's easy for some news to get lost in the shuffle. However, it's good to see even more creativity coming out of a new cable network, WGN America.
On Sunday, the network announced a slate of original series that will be hitting the channel over the next year. The presentation included three original shows that made many in the media take notice.
The first standout production is a 13-episode series called Salem which will premiere on April 20. The show stars Shane West, Seth Gabel, Janet Montgomery and Ashley Madekwe. The show will take a fresh approach on the witch trials in 17th century Massachusetts.
WGN America's next project will be Manhattan which is set for a July 2014 premiere. That series will follow the race to build the world's first first atomic bomb. However, this show will also take a close look at how the event affected families and friendships during that time period.
Finally, The Weinstein Company is delivering a 10-episode, 10-consecutive night special, Ten Commandments. They are taking a creative approach to this event series with 10 different filmmakers giving their own modern interpretation of a particular Commandment. Currently, Gus Van Sant, Lee Daniels, Jim Sheridan, Michael Cera and Wes Craven are slated to direct one episode each.
Matt Cherniss, President and General Manager, WGN America and Tribune Studios talked on Sunday about the network's strategy, "We want our series to transport the audience to worlds that they have never experienced and tell big, operatic stories that entice and entertain. We've harnessed some incredible talent to depict these worlds in a way that highlights the universalities in human nature that bind us all."
WGN America can currently be found in 75 million satellite and cable subscriber homes. 
http://www.dailyactor.com/wp-content/uploads/2016/08/imperium_daniele_radcliffe.jpg
Daniel Radcliffe on Playing a Neo-Nazi in 'Imperium': "It's still just horrible to say some of this stuff"
Radcliffe reveals how he played such a layered character and what it felt like to say his character's hate-filled dialogue.
http://www.dailyactor.com/actors-on-acting/daniel-radcliffe-playing-a-neo-nazi-imperium/
http://www.dailyactor.com/wp-content/uploads/2016/08/John-Cho-Star-Trek-Beyond.jpg
How John Cho Took A Stand for Diversity Early in His Career
"When one does speak one's mind, one might be surprised at how receptive people are." - Actor John Cho
http://www.dailyactor.com/actors-on-acting/john-cho-took-a-stand-for-diversity/
http://www.dailyactor.com/wp-content/uploads/2016/08/simon-helberg-florence-foster-jenkins.jpg
Simon Helberg on His 'Florence Foster Jenkins' Role: "I'm an actor and I want to stretch different muscles"
Helberg spoke about portraying his character in the film and whether or not he feels typecast by his Big Bang Theory role.
http://www.dailyactor.com/actors-on-acting/simon-helberg-florence-foster-jenkins-role/
http://www.dailyactor.com/wp-content/uploads/2016/08/Will-Chase-Something-Rotten.jpg
The Role That Got Away: Will Chase on Returning to 'Something Rotten!'
"I know that I am a poor man's fill-in-the-blank. And I know that there are poor man's Will Chases out there. That's just the nature of the business" - Will Chase
http://www.dailyactor.com/actors-on-acting/will-chase-something-rotten-role-that-got-away/
http://www.dailyactor.com/wp-content/uploads/2016/08/Julia-Stiles-Jason-Bourne.jpg
Julia Stiles on the Jason Bourne Series and Growing as an Actress: "There's always room for improvement"
"I like a director that encourages me to be playful. I don't really like being restricted or controlled by a director." - Julia Stiles
http://www.dailyactor.com/actors-on-acting/julia-stiles-growing-as-an-actress/