Vincent Kartheiser: "I think there's plenty of me in Pete Campbell"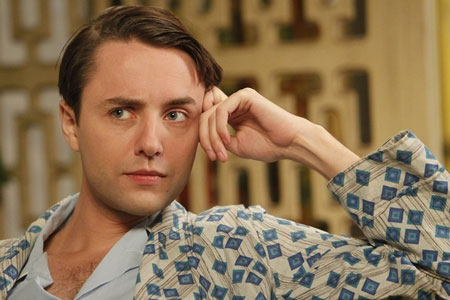 An environmentally-concerned minimalist in real-life, Mad Men's Vincent Kartheiser couldn't be much further apart from his on-screen persona. He plays Pete Campbell, a young, ambitious and scheming advertising executive on AMC's hit '60s drama about a New York City ad agency.
"I think there's plenty of me in Pete Campbell," Kartheiser recently revealed to The Huffington Post. "People on the show like to say that I'm very different from my character, but what else are they gonna say? I play a really despicable, ugly character. To most people, that summation is what the character represents. So my co-stars don't want to completely ruin my love life.
"I can relate with most of the things Pete does. I'm not saying I do them, but most of his actions – in those situations – are justifiable. I don't think it's that far off from what other people would do," the 33-year-old continued.
Kartheiser also touched on the departure of the show's Jared Harris, whose character Lane Pryce, a fellow partner of Campbell's at Sterling Cooper Draper Pryce, hung himself in his office in the show's June 3 episode. "We're all going to miss Jar, and we all had the opportunity on set to tell him how remorseful we were that we wouldn't be getting the opportunity to work with him anymore," he recalled. "We all love his character portrayal every week – we really do."
http://www.dailyactor.com/wp-content/uploads/2015/10/Bridge-of-Spies-Tom-Hanks-Mark-Rylance.jpg
Tom Hanks on Working with Steven Spielberg and Mark Rylance in 'Bridge of Spies'
"Steven does this incredible thing when he casts you: He empowers you with the scene." - Tom Hanks on Steven Spielberg
http://www.dailyactor.com/actors-on-acting/tom-hanks-working-steven-spielberg-mark-rylance-bridge-of-spies/
http://www.dailyactor.com/wp-content/uploads/2015/09/Tom-Hardy-Legend.jpg
Tom Hardy on Playing Twins in 'Legend,' Being Seen as a Tough Guy, and Working with Philip Seymour Hoffman
Hardy speaks about why he challenged himself to play twins, what he thinks of his tough guy image, and working with the late Philip Seymour Hoffman, who directed him on stage.
http://www.dailyactor.com/actors-on-acting/tom-hardy-playing-twins-legend/
http://www.dailyactor.com/wp-content/uploads/2015/09/Emily-Blunt-Sicario.jpg
Emily Blunt on Action Movie Roles: "I think it's important to show different layers. Nobody is just tough, nobody is just vulnerable"
Emily Blunt touches upon why she has gotten into roles with an action bent and why she thinks there aren't more action movies with female leads
http://www.dailyactor.com/actors-on-acting/emily-blunt-sicario-acting-layers/
http://www.dailyactor.com/wp-content/uploads/2015/09/Jorja-Fox-CSI.jpg
Jorja Fox on Life After 'CSI': "I've always enjoyed not knowing exactly where the road leads"
"I think you kind of have to embrace the unknown if you're an actor." - Jorja Fox
http://www.dailyactor.com/actors-on-acting/jorja-fox-life-after-csi/
http://www.dailyactor.com/wp-content/uploads/2015/09/John-Turturro-Mia-Madre.jpg
John Turturro on the Life of an Actor: "It's a rough business. I wouldn't want my kids to do it"
"I am usually very well prepared. If you're a surgeon, you've got to know what you're going to take out today." - John Turturro
http://www.dailyactor.com/actors-on-acting/john-turturro-life-of-an-actor/