Vincent Kartheiser: The Challenges of Working in Animation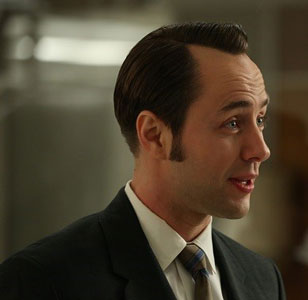 Even though fans will have to wait another year for the final season of Mad Men, star Vincent Kartheiser isn't sitting back during his time off. The 34-year-old actor is working for two shows in Fox Animation's Domination High Def block. He's voicing characters on Axe Cop and High School U.S.A. that launch on July 27.
In an interview with the Los Angeles Times' Show Tracker, the talented thespian talked about his new creative venture.
He said, "[Fox] had this show called "Axe Cop" and they thought I would have a good voice for a guest-starring character who is Bat Warthog Man, and so I came into their office, which at the time was just a tiny little garage of a house in Los Feliz. It was in this little room where we had to turn the air conditioner off to record because it made too much noise. And there was seven writers, two producers and me all in this tiny room and I did the voice for Bat Warthog Man and we had a lot of fun. And they said, 'You know, while you're here, do you want to audition for this other role on 'High School U.S.A.' and I said, 'Sure.' It kind of just took off from there. I was just going in, and doing table reads, and recording every other week. It's just a fun experience getting in that room and improv-ing some stuff."
Kartheiser is currently working in his home state of Minnesota at the Guthrie Theater's production of Pride and Prejudice. He's playing the role of Mr. Darcy through Aug. 31. However, it is his roots in radio commercials and voice overs that have helped him with his current animation gig.
The Mad Men star revealed the differences between TV and voice work.
He shared, "…mannerisms and that other stuff will be added, and so you can still do them. Most of the time, I'm still acting the same as I would on "Mad Men" in terms of how I deliver my part. But the idea that you're not acting with someone is a different kind of challenge that I'm not used to. When I need it, they'll jump in and run lines with me, especially [creator and writer] Dino Stamatopoulos. He's good with kind of cuing me to get the right intensity and emotion. But, yeah, I grew up in Minnesota and I used to do a ton of radio commercials here, voice overs. I was actually a radio disc jockey for two years when I was 11 and 12. So I have some experience in the studio working with my voice, but not much in the last 10 years — with the exception of "Rango."
It seems like he's really enjoying the gig though because he told the Times, "I just hope they keep making more projects and hiring me."
Animation Domination HD premieres July 27 on Fox.
Watch: SAG Conversations with Tom Hiddleston of 'The Night Manager'
Hiddleston chats about the finer points of playing Jonathan Pine, a former British soldier.
http://www.dailyactor.com/actors-on-acting/sag-conversations-tom-hiddleston-the-night-manager/
http://www.dailyactor.com/wp-content/uploads/2016/08/John-Krasinski-The-Hollars.jpg
John Krasinski on his "Lottery-Ticket Life": "What I try to do instead is try to deserve to stay here"
"It's so unbelievably rare to get the opportunity that I did to be on The Office, so what I try to do instead is try to deserve to stay here" - John Krasinski
http://www.dailyactor.com/actors-on-acting/john-krasinski-ottery-ticket-life/
http://www.dailyactor.com/wp-content/uploads/2016/08/john-turturro-the-night-of.jpg
John Turturro on 'The Night Of', Almost Quitting Acting and Why He Doesn't Chase Awards
"Why do I have to pay a publicist? I'd rather save my money so I can go do an Off Broadway play.'" - John Turturro
http://www.dailyactor.com/actors-on-acting/john-turturro-the-night-of-quitting-actingawards/
http://www.dailyactor.com/wp-content/uploads/2016/08/imperium_daniele_radcliffe.jpg
Daniel Radcliffe on Playing a Neo-Nazi in 'Imperium': "It's still just horrible to say some of this stuff"
Radcliffe reveals how he played such a layered character and what it felt like to say his character's hate-filled dialogue.
http://www.dailyactor.com/actors-on-acting/daniel-radcliffe-playing-a-neo-nazi-imperium/
http://www.dailyactor.com/wp-content/uploads/2016/08/John-Cho-Star-Trek-Beyond.jpg
How John Cho Took A Stand for Diversity Early in His Career
"When one does speak one's mind, one might be surprised at how receptive people are." - Actor John Cho
http://www.dailyactor.com/actors-on-acting/john-cho-took-a-stand-for-diversity/