True Blood's Terry Bellefluer, Todd Lowe: With Season 5 "I haven't been able to find, really, moments of levity"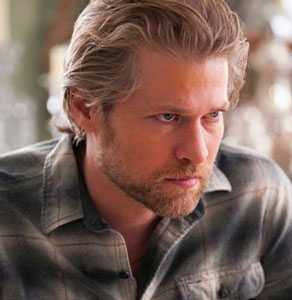 Todd Lowe is finally getting a chance to do some drama on HBO's True Blood.  For the past several seasons, his character, Terry Bellefleur, has had to settle for being the comic relief for the respective vampires, werewolves, and fairies on the scene. But Lowe actually favors the lighter bits.
"I guess I do prefer doing comic roles, but you have to play it truthful and the drama that I've been playing this year has been great," he told Rolling Stone.  "I haven't been able to find, really, moments of levity."
Except in last week's episode, where Nelsan Ellis' character, Lafayette, did a pretty funny séance scene.  Lowe recalls, "It's really hard, especially when he had to memorize those few lines in Arabic, and he's sitting there shouting and getting really into it—spit's coming out, people getting hit in the face—but he's so powerful, it's hard not to flinch when he really turns it on like that.  But, yeah, him rattling those bracelets—we got all that silly stuff out in the rehearsal.  Once you do a scene 10 times, it's not quite as funny anymore."
In fact, it's odd that Terry would be one of the show's funniest characters.  He has a tortured past, and currently suffers from PTSD after returning from the Iraq War.  While Lowe admits he didn't do any serious research, he had some familiarity with the condition.  "I knew some people growing up—some family members, some friends of the family—who had done time over in Iraq and done a couple of tours, and I kind of based it on them," he said.  "I didn't do too much medical research into it—I'm leaving that up to the writers to determine what's going to happen—but I didn't know until the beginning of Season Five, when Alan [Ball] sent me an email saying what was going to go on with my character, what had actually happened over there.  I didn't know in Season One that I had shot an innocent woman while high.  So having that at the beginning of this season, like, 'Ok, you did do something just terrible and nightmares are going to plague you forever.'  That is the cause of why he's been [the way he is], among other horrors I'm sure he saw over there.  That's the one that was the most personal."
True Blood airs on HBO, Sundays at 9 p.m.
http://www.dailyactor.com/wp-content/uploads/2016/05/Chris-Evans-Captain-America.jpg
Chris Evans on the Challenges of Being Captain America Outside of Acting
"It's part of the job, I've got to sell this thing. But it's just a gross feeling. It makes me insecure."
http://www.dailyactor.com/film/chris-evans-challenges-of-being-captain-america/
http://www.dailyactor.com/wp-content/uploads/2016/04/julia-louis-dreyfus-veep.jpg
Julia Louis-Dreyfus: "Opportunity for women in television has increased. It's because the landscape has widened"
"I did not come out of SNL as any kind of name. I didn't do anything particularly great when I was there. I didn't. It's fine. But I learned a tremendous amount."
http://www.dailyactor.com/tv/julia-louis-dreyfus/
http://www.dailyactor.com/wp-content/uploads/2016/04/Tituss-Burgess-Unbreakable-Kimmy-Schmidt.jpg
Tituss Burgess on How He Landed His 'Unbreakable Kimmy Schmidt' Role
Burgess reveals how his role on 30 Rock led to 'Kimmy Schmidt' and whether or not he'd consider returning to Broadway.
http://www.dailyactor.com/tv/tituss-burgess-unbreakable-kimmy-schmidt-role/
http://www.dailyactor.com/wp-content/uploads/2016/04/Christine-Baranski-The-Good-Wife.jpg
Christine Baranski on the End of 'The Good Wife' and Going Back to Theatre
The final episode of The Good Wife airs on May 8, and it's been several weeks since series star Christine Baranski shot the final episode with her co-stars. She spoke to The Hollywood Reporter about the end of the series she has spent the last seven years working on and what she plans to do […]
http://www.dailyactor.com/tv/christine-baranski-the-good-wife-theatre/
http://www.dailyactor.com/wp-content/uploads/2016/04/jake-gyllenhaal-demolition.jpg
Jake Gyllenhaal on 'Demolition', Working with Chris Cooper and Directors Who Want Nothing to Do With Him
"I think storytelling is the most important part of movie-making over performance." - Jake Gyllenhaal
http://www.dailyactor.com/film/jake-gyllenhaal-demolition-chris-cooper/