Tina Fey on the End of '30 Rock' and a Possible 'Mean Girls' Musical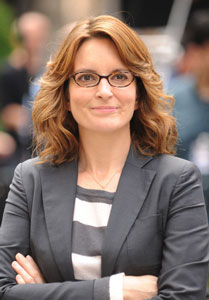 Tina Fey is already preparing herself for what it will be like to stop work on the hit NBC comedy 30 Rock.
"Oh my God, it's going to be horrible," she said.  "For years, I've been doing this joke whenever Jack McBrayer would finish, I would say, 'That's a series wrap for Jack McBrayer,' or 'That's a career wrap for Jack McBrayer.'  And now that's going to be true for all of us."
Fey admits that letting go of playing the character of Liz Lemon will be just as difficult as ending the show's run.  "I keep trying to tell my husband and Robert Carlock [writer and producer of 30 Rock] to be ready," she told Vulture.  "At SNL, you knew at the end of the season you were going to hit a two-week depression.  It's hard to stop.  And this has been a longer run and a harder run in a lot of ways.  I think it's going to be like when people run a marathon and they throw up at the end."
When asked if she'll revisit Liz Lemon at any point, Fey said she didn't know.  "I hope what we figure out for the ending will be satisfying in a way, you know, where we're leaving her, and for a while, we know she's going to be all right.  I don't think 30 Rock lends itself to a $70 million movie, so we may be leaving her.  I don't know, maybe a series of novels.  I could novelize Liz Lemon.  Sure."
That's not to say that Fey doesn't have any other projects in the pipeline.  Her husband said that she's working on a Mean Girls musical, based on her 2004 film.  "I'm confident that Paramount will give us permission to work on it, but I think he's secretly been working on it for years!  He's been in there, in his office, working on it for a long time now, yeah."
30 Rock will finish out its run on NBC, Thursdays at 8 p.m.
http://www.dailyactor.com/wp-content/uploads/2016/04/julia-louis-dreyfus-veep.jpg
Julia Louis-Dreyfus: "Opportunity for women in television has increased. It's because the landscape has widened"
"I did not come out of SNL as any kind of name. I didn't do anything particularly great when I was there. I didn't. It's fine. But I learned a tremendous amount."
http://www.dailyactor.com/tv/julia-louis-dreyfus/
http://www.dailyactor.com/wp-content/uploads/2016/04/Tituss-Burgess-Unbreakable-Kimmy-Schmidt.jpg
Tituss Burgess on How He Landed His 'Unbreakable Kimmy Schmidt' Role
Burgess reveals how his role on 30 Rock led to 'Kimmy Schmidt' and whether or not he'd consider returning to Broadway.
http://www.dailyactor.com/tv/tituss-burgess-unbreakable-kimmy-schmidt-role/
http://www.dailyactor.com/wp-content/uploads/2016/04/Christine-Baranski-The-Good-Wife.jpg
Christine Baranski on the End of 'The Good Wife' and Going Back to Theatre
The final episode of The Good Wife airs on May 8, and it's been several weeks since series star Christine Baranski shot the final episode with her co-stars. She spoke to The Hollywood Reporter about the end of the series she has spent the last seven years working on and what she plans to do […]
http://www.dailyactor.com/tv/christine-baranski-the-good-wife-theatre/
http://www.dailyactor.com/wp-content/uploads/2016/04/jake-gyllenhaal-demolition.jpg
Jake Gyllenhaal on 'Demolition', Working with Chris Cooper and Directors Who Want Nothing to Do With Him
"I think storytelling is the most important part of movie-making over performance." - Jake Gyllenhaal
http://www.dailyactor.com/film/jake-gyllenhaal-demolition-chris-cooper/
http://www.dailyactor.com/wp-content/uploads/2016/04/don-cheadle-miles-davis.jpg
Don Cheadle: "Be scared. Be on the edge of your creativity"
"Be willing to fall flat on your face and be in an unknown place. If you're doing that, you're probably growing" - Don Cheadle
http://www.dailyactor.com/film/don-cheadle-scared-creativity/