'The Good Wife' Star Josh Charles on His Dramatic Exit from the Show: "I was just ready to move on to the next chapter"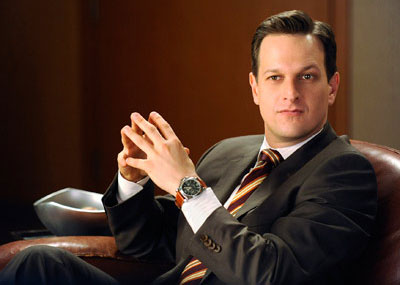 [Warning: Spoilers]
On Sunday, one of the biggest shockers was the death of beloved character Will Gardner on the CBS show, The Good Wife. Twitter was in a frenzy over Josh Charles' dramatic exit from the hit show.
In this era of spoilers and no secrets, thanks to social media, Charles, the cast and crew were able to keep a massive secret. The 42-year-old actor had signed on for Season 5, but not all of Season 5.
Charles spoke to TVLine about his big decision to leave the critically acclaimed show.
He said, "I knew last year. Through discussions with the producers and Julianna [Margulies], we all kind of thought of an idea that [included me coming] back this year to do a set amount of 15 episodes, and really build towards something and give the character a more proper goodbye."
The decision to leave was a pretty simple one for the former Sports Night star, but he wanted to make sure he honored the integrity of the show.
"It wasn't anything bad. Creatively, I was just ready to move on to the next chapter. After having a long conversation with Julianna, and with [series co-creators] Robert and Michelle [King], I liked the idea of coming back and doing a finite amount of episodes. It all sounded like positives for me and for the show, and that turned out to be true," he explained. "Once the decision was made and we knew what we were doing, it made it very special for me because I knew going into this season that this would be my last year, that I would be doing these 15 episodes. And it gave everything a real heightened quality for me."
The one concern about leaving was disappointing his co-star. Charles shared what their off-camera relationship is like.
"Julianna and I are very good friends. She's the reason I'm doing this show; she thought of me for this role, and called me about it when they were casting it. That friendship and bond will always be there. She was the first person I called when I was considering what to do. I talked to her very honestly about how I was feeling, and, as a friend, she really understood my point of view and respected that decision," Charles said.
Even though the actor left a network television show, don't assume he's eliminating another series from a list of possible gigs. He just wants something with an easier schedule.
"I love the structure of television. I love being able to craft a character over a long period of time. I think more than likely it would probably not be 22 episodes a year. I'd put the writing on The Good Wife up against any of the cable shows. It's just that 22 [episodes] a year is really hard for everybody," Charles summed up. "For me, just newly-married and wanting to have a family and wanting to do other things, the more likely scenario is a 10 or 13-episode situation. It really is about the material. TV has been very good to me. I felt very blessed to have had this gig."
http://www.dailyactor.com/wp-content/uploads/2016/05/Chris-Evans-Captain-America.jpg
Chris Evans on the Challenges of Being Captain America Outside of Acting
"It's part of the job, I've got to sell this thing. But it's just a gross feeling. It makes me insecure."
http://www.dailyactor.com/film/chris-evans-challenges-of-being-captain-america/
http://www.dailyactor.com/wp-content/uploads/2016/04/julia-louis-dreyfus-veep.jpg
Julia Louis-Dreyfus: "Opportunity for women in television has increased. It's because the landscape has widened"
"I did not come out of SNL as any kind of name. I didn't do anything particularly great when I was there. I didn't. It's fine. But I learned a tremendous amount."
http://www.dailyactor.com/tv/julia-louis-dreyfus/
http://www.dailyactor.com/wp-content/uploads/2016/04/Tituss-Burgess-Unbreakable-Kimmy-Schmidt.jpg
Tituss Burgess on How He Landed His 'Unbreakable Kimmy Schmidt' Role
Burgess reveals how his role on 30 Rock led to 'Kimmy Schmidt' and whether or not he'd consider returning to Broadway.
http://www.dailyactor.com/tv/tituss-burgess-unbreakable-kimmy-schmidt-role/
http://www.dailyactor.com/wp-content/uploads/2016/04/Christine-Baranski-The-Good-Wife.jpg
Christine Baranski on the End of 'The Good Wife' and Going Back to Theatre
The final episode of The Good Wife airs on May 8, and it's been several weeks since series star Christine Baranski shot the final episode with her co-stars. She spoke to The Hollywood Reporter about the end of the series she has spent the last seven years working on and what she plans to do […]
http://www.dailyactor.com/tv/christine-baranski-the-good-wife-theatre/
http://www.dailyactor.com/wp-content/uploads/2016/04/jake-gyllenhaal-demolition.jpg
Jake Gyllenhaal on 'Demolition', Working with Chris Cooper and Directors Who Want Nothing to Do With Him
"I think storytelling is the most important part of movie-making over performance." - Jake Gyllenhaal
http://www.dailyactor.com/film/jake-gyllenhaal-demolition-chris-cooper/