Sutton Foster on the 'Bunheads' Shooting Schedule: "I've never been more addicted to coffee and Diet Coke"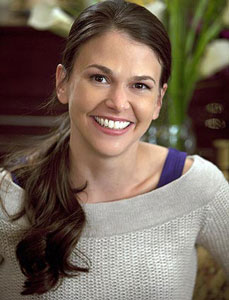 Sutton Foster's foray into television has been a successful one.  The two-time Tony winner's series, Bunheads, has already been picked up for a second season.
The change from Broadway to television has been different for Foster.  In an interview with Broadway.com, she said, "I'm coming from a world of theater where every day is the same, and there's a comfort in that.  But on TV, once you're done with a scene, you'll never do it again.  You've got 40 people staring at you with a camera and lights; there's no time to be scared or to be like, 'I don't know how.'  There's days, obviously, where I'm like, 'I can't do it!'  But you work through it and move on to something else."
One of the main obstacles has been the shooting schedule, much different from a typical theater run.  "One of the biggest challenges is the exhaustion factor," Foster said.  "They'll be like, 'Okay, your call's at 5:45.'  What!? [laughs].  I'd go to bed at 8:30, then work a 15-hour day and memorize the dialogue on the show, so the biggest challenges are brain melt and exhaustion.  I've never been more addicted to coffee and Diet Coke."
But despite the small-screen success, Foster will always consider Broadway her home.  "I hope to have a long, lustrous career," she said.  "People ask me what's better, Broadway or TV?  I can't pick.  That's not fair.  Bunheads has been a great challenge and something I needed creatively.  If Broadway will have me, I'll be back for the rest of my life.  Hopefully my life will be very long.  I'm aiming for an Angela Lansbury career!"
http://www.dailyactor.com/wp-content/uploads/2015/10/Bridge-of-Spies-Tom-Hanks-Mark-Rylance.jpg
Tom Hanks on Working with Steven Spielberg and Mark Rylance in 'Bridge of Spies'
"Steven does this incredible thing when he casts you: He empowers you with the scene." - Tom Hanks on Steven Spielberg
http://www.dailyactor.com/actors-on-acting/tom-hanks-working-steven-spielberg-mark-rylance-bridge-of-spies/
http://www.dailyactor.com/wp-content/uploads/2015/09/Tom-Hardy-Legend.jpg
Tom Hardy on Playing Twins in 'Legend,' Being Seen as a Tough Guy, and Working with Philip Seymour Hoffman
Hardy speaks about why he challenged himself to play twins, what he thinks of his tough guy image, and working with the late Philip Seymour Hoffman, who directed him on stage.
http://www.dailyactor.com/actors-on-acting/tom-hardy-playing-twins-legend/
http://www.dailyactor.com/wp-content/uploads/2015/09/Emily-Blunt-Sicario.jpg
Emily Blunt on Action Movie Roles: "I think it's important to show different layers. Nobody is just tough, nobody is just vulnerable"
Emily Blunt touches upon why she has gotten into roles with an action bent and why she thinks there aren't more action movies with female leads
http://www.dailyactor.com/actors-on-acting/emily-blunt-sicario-acting-layers/
http://www.dailyactor.com/wp-content/uploads/2015/09/Jorja-Fox-CSI.jpg
Jorja Fox on Life After 'CSI': "I've always enjoyed not knowing exactly where the road leads"
"I think you kind of have to embrace the unknown if you're an actor." - Jorja Fox
http://www.dailyactor.com/actors-on-acting/jorja-fox-life-after-csi/
http://www.dailyactor.com/wp-content/uploads/2015/09/John-Turturro-Mia-Madre.jpg
John Turturro on the Life of an Actor: "It's a rough business. I wouldn't want my kids to do it"
"I am usually very well prepared. If you're a surgeon, you've got to know what you're going to take out today." - John Turturro
http://www.dailyactor.com/actors-on-acting/john-turturro-life-of-an-actor/