Surprise! Neve Campbell Shows Up in a Critical Scene on 'Mad Men' Premiere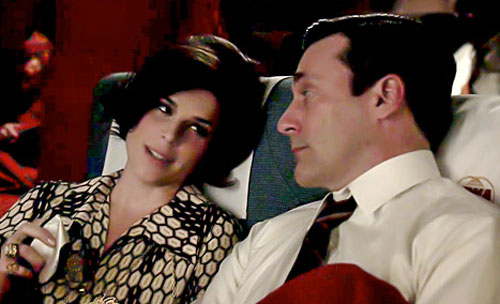 Fans of Mad Men might have done a double take on last week's season premiere of the show. Yes, that was former Party of Five star Neve Campbell snuggling with Don Draper, played by Jon Hamm, in the airplane scene.
The 40-year-old actress spoke with Vulture about her coveted role on the critically acclaimed show.
She explained how she wound up on the series, "I auditioned. I was sent some scenes, and I went in and auditioned for [creator] Matt Weiner . I was excited to do it, too, because I had heard he was very creative in the room and really gave good direction."
"It was my first time meeting him and it went really well," Campbell continued. "Often when you go into auditions, you don't get a whole lot of direction, but Matt is really specific about, well, everything, which is I think why the show is so wonderful. He's almost obsessive about how to make things right and get his vision exactly. He was very clear about the character and what he wanted from her and who she was."
One interesting note is how specific Weiner is about the look and overall feel of Mad Men. The Scream star shared what happened when she asked for a different look, "…the styling on the show is impeccable, and Matt is actually a big part of that. At one point I had said, 'Can we possibly try a different style from the same period?' and they were like, 'Nope, this is the article we got from the newspaper that Matt chose — and that's how it goes.' He even chooses the hair and makeup for the extras. They do tests on all of them."
There's no word on whether her widowed character will turn up in later episodes. However, knowing Weiner's skill for plot-building and secrecy, audiences should expect Campbell to make another appearance somewhere in the final 13 episodes.
http://www.dailyactor.com/wp-content/uploads/2016/08/John-Cho-Star-Trek-Beyond.jpg
How John Cho Took A Stand for Diversity Early in His Career
"When one does speak one's mind, one might be surprised at how receptive people are." - Actor John Cho
http://www.dailyactor.com/film/john-cho-took-a-stand-for-diversity/
http://www.dailyactor.com/wp-content/uploads/2016/08/simon-helberg-florence-foster-jenkins.jpg
Simon Helberg on His 'Florence Foster Jenkins' Role: "I'm an actor and I want to stretch different muscles"
Helberg spoke about portraying his character in the film and whether or not he feels typecast by his Big Bang Theory role.
http://www.dailyactor.com/film/simon-helberg-florence-foster-jenkins-role/
http://www.dailyactor.com/wp-content/uploads/2016/08/Will-Chase-Something-Rotten.jpg
The Role That Got Away: Will Chase on Returning to 'Something Rotten!'
"I know that I am a poor man's fill-in-the-blank. And I know that there are poor man's Will Chases out there. That's just the nature of the business" - Will Chase
http://www.dailyactor.com/broadway-theater/will-chase-something-rotten-role-that-got-away/
http://www.dailyactor.com/wp-content/uploads/2016/08/Julia-Stiles-Jason-Bourne.jpg
Julia Stiles on the Jason Bourne Series and Growing as an Actress: "There's always room for improvement"
"I like a director that encourages me to be playful. I don't really like being restricted or controlled by a director." - Julia Stiles
http://www.dailyactor.com/film/julia-stiles-growing-as-an-actress/
http://www.dailyactor.com/wp-content/uploads/2016/08/Michael-Kenneth-Williams-The-Night-Of.jpg
Michael Kenneth Williams on How His Roles Impact Him: "That energy's gotta go somewhere"
Since his days of playing Omar on 'The Wire', Williams has learned how to separate himself from his characters.
http://www.dailyactor.com/tv/michael-kenneth-williams-the-night-of/