Sigourney Weaver talks 'Political Animals' (video)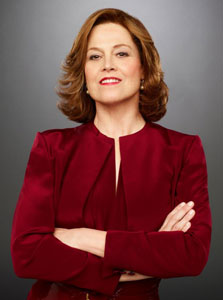 Why do Americans watch political dramas – especially during an election year? What kind of comment do they offer on the realities of campaigning and governance?
Perhaps the narrative of budget cuts and partisan acrimony is too just too grim for some viewers. Even the star of new USA Network mini-series "Political Animals" calls the fictional alternative "easier to watch."
When asked how she felt about the ongoing campaigns, Sigourney Weaver ("Aliens," "Gorillas in the Mist") put it delicately: "I think it's a pretty daunting thing to watch. It's our dysfunctional political process front and center, and I actually think it'll be one of the reasons people will tune into 'Political Animals.' As dysfunctional as we are, it's fiction."
The drama focuses on former first lady and current secretary of state Elaine Barrish Hammond (Weaver) and the internal dynamics of her family as they reenter the fray. In an interview with TIME editor Belinda Luscombe, Weaver discusses a range of other subjects as well: television, alternatives to drama school and work-life balance.
 "Working is much easier than being a parent. That's what 'Political Animals' is also about. My character is much more efficient as secretary of state than she is as a mother."
 "Political Animals" is set to premiere on July 15 in the Sunday, 10 p.m. slot.
http://www.dailyactor.com/wp-content/uploads/2016/02/alicia-Vikander-Ex-machina.jpg
Alicia Vikander on the Her First Trip to L.A. and the Acting Tip 'Ex-Machina' Director Alex Garland Gave Her
"You [get immersed in] a film and of course you think that that is it. And then you go away and you read a new script and you have a new crush" - Alicia Vikander
http://www.dailyactor.com/actors-on-acting/alicia-vikanderacting-tip-ex-machina-director-alex-garland-gave-her/
http://www.dailyactor.com/wp-content/uploads/2016/02/Channing-Tatum-Hail-Caesar.jpg
Channing Tatum Talks 'Hail, Caesar!': "I've been beating on the Coens' door for years, man"
"It's the most I've ever prepped for a six-minute section in a movie." - Channing Tatum
http://www.dailyactor.com/actors-on-acting/channing-tatum-hail-caesar-tap-dancing/
http://www.dailyactor.com/wp-content/uploads/2016/01/Isidora-Goreshter-Shameless-audition.jpg
Isidora Goreshter Remembers Her Audition for 'Shameless'
Goreshter recently recalled that her audition for the 'Shameless' was by far her worst ever.
http://www.dailyactor.com/actors-on-acting/isidora-goreshter-audition-for-shameless/
http://www.dailyactor.com/wp-content/uploads/2016/01/Sutton-Foster-Younger.jpg
Sutton Foster: "Sometimes I won't even find a character until I put on the costume"
"I never had grand aspirations to be a movie star, to be famous or to be on TV. The theater was what I wanted." - Sutton Foster
http://www.dailyactor.com/actors-on-acting/sutton-foster-younger-character-costume/
http://www.dailyactor.com/wp-content/uploads/2016/01/Paul-Giamatti-Billions.jpg
Paul Giamatti on Building His Career: "I was always willing to just go, 'OK, sure, I'll do that'"
"I've done everything an actor can do except porn and performing in an amusement park" - Paul Giamatti
http://www.dailyactor.com/actors-on-acting/paul-giamatti-billions-building-an-acting-career/