Sigourney Weaver talks 'Political Animals' (video)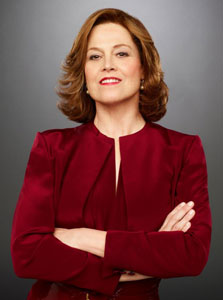 Why do Americans watch political dramas – especially during an election year? What kind of comment do they offer on the realities of campaigning and governance?
Perhaps the narrative of budget cuts and partisan acrimony is too just too grim for some viewers. Even the star of new USA Network mini-series "Political Animals" calls the fictional alternative "easier to watch."
When asked how she felt about the ongoing campaigns, Sigourney Weaver ("Aliens," "Gorillas in the Mist") put it delicately: "I think it's a pretty daunting thing to watch. It's our dysfunctional political process front and center, and I actually think it'll be one of the reasons people will tune into 'Political Animals.' As dysfunctional as we are, it's fiction."
The drama focuses on former first lady and current secretary of state Elaine Barrish Hammond (Weaver) and the internal dynamics of her family as they reenter the fray. In an interview with TIME editor Belinda Luscombe, Weaver discusses a range of other subjects as well: television, alternatives to drama school and work-life balance.
 "Working is much easier than being a parent. That's what 'Political Animals' is also about. My character is much more efficient as secretary of state than she is as a mother."
 "Political Animals" is set to premiere on July 15 in the Sunday, 10 p.m. slot.
http://www.dailyactor.com/wp-content/uploads/2016/08/imperium_daniele_radcliffe.jpg
Daniel Radcliffe on Playing a Neo-Nazi in 'Imperium': "It's still just horrible to say some of this stuff"
Radcliffe reveals how he played such a layered character and what it felt like to say his character's hate-filled dialogue.
http://www.dailyactor.com/actors-on-acting/daniel-radcliffe-playing-a-neo-nazi-imperium/
http://www.dailyactor.com/wp-content/uploads/2016/08/John-Cho-Star-Trek-Beyond.jpg
How John Cho Took A Stand for Diversity Early in His Career
"When one does speak one's mind, one might be surprised at how receptive people are." - Actor John Cho
http://www.dailyactor.com/actors-on-acting/john-cho-took-a-stand-for-diversity/
http://www.dailyactor.com/wp-content/uploads/2016/08/simon-helberg-florence-foster-jenkins.jpg
Simon Helberg on His 'Florence Foster Jenkins' Role: "I'm an actor and I want to stretch different muscles"
Helberg spoke about portraying his character in the film and whether or not he feels typecast by his Big Bang Theory role.
http://www.dailyactor.com/actors-on-acting/simon-helberg-florence-foster-jenkins-role/
http://www.dailyactor.com/wp-content/uploads/2016/08/Will-Chase-Something-Rotten.jpg
The Role That Got Away: Will Chase on Returning to 'Something Rotten!'
"I know that I am a poor man's fill-in-the-blank. And I know that there are poor man's Will Chases out there. That's just the nature of the business" - Will Chase
http://www.dailyactor.com/actors-on-acting/will-chase-something-rotten-role-that-got-away/
http://www.dailyactor.com/wp-content/uploads/2016/08/Julia-Stiles-Jason-Bourne.jpg
Julia Stiles on the Jason Bourne Series and Growing as an Actress: "There's always room for improvement"
"I like a director that encourages me to be playful. I don't really like being restricted or controlled by a director." - Julia Stiles
http://www.dailyactor.com/actors-on-acting/julia-stiles-growing-as-an-actress/