Sigourney Weaver on Her 'Political Animals' Role: "It was just really like after eating salad for a couple of years, I was offered a big juicy steak"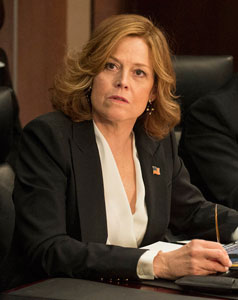 Though she'll always be best known as Ripley, the Alien franchise extraterrestrial ass-kicker and one of film's most iconic female protagonists, Sigourney Weaver has had a prolific career in film.  She now stars in her first television mini-series Political Animals as Elaine Barrish, the current U.S. Secretary of State and ex-wife of a former president. 
In an interview with NBC News, Weaver speaks about her new role, its obvious connection to Hillary Clinton, and how fortunate she has been in her career.
Weaver admits that her main attraction to the role was the fact that it isn't something she is usually offered.  She explains, "The writing was wonderful. It was the kind of story I'm not often offered. I wouldn't be surprised if I was offered, you know, 'mountain woman in Alaska' or something, but to be offered this sort of mainstream matriarch who was a first lady, is now Secretary of State, who has this problematic family — two sons, an ex-husband, a foul-mouthed mother — it was just really like after eating salad for a couple of years, I was offered a big juicy steak. And I just took out my fork and knife and went, 'All right, I'm going for it.'"
Of course, the "former First Lady becomes Secretary of State" certainly draws parallels to current United States Secretary of State, Hillary Clinton.  But Weaver is quick to point out that the similarities are only superficial, saying, "I love the fact that our creator, Greg Berlanti, couldn't resist some of the salient facts of the Clintons. But I always felt, from the moment I started reading it, that Elaine was her own person. I wouldn't dream of trying to imitate or impersonate Hillary Clinton, whom I admire very, very much, and I think she's done an awesome job in every job she's had. But I would need months to prepare for that. But this, I just sort of turned the page and I was in the world of the Hammonds and in the world of Washington, D.C., which is so fascinating. And I just sort of jumped off the cliff."
Ultimately, Weaver is surprised by her success in film, and she never imagined doing as well as she has done, particularly her iconic role in Alien.  She says, "I'm still surprised by it. I sort of went to school thinking I'd do a little Shakespeare… I was very fortunate. That was really my first film. So I mean I was, who knows; that's just fortune, that's the gods. But this role, Elaine, is one of the most challenging I've ever had because she doesn't have a flamethrower. Her flamethrower is her ideals."
Political Animals airs Sunday nights on the USA Network.
http://www.dailyactor.com/wp-content/uploads/2016/04/julia-louis-dreyfus-veep.jpg
Julia Louis-Dreyfus: "Opportunity for women in television has increased. It's because the landscape has widened"
"I did not come out of SNL as any kind of name. I didn't do anything particularly great when I was there. I didn't. It's fine. But I learned a tremendous amount."
http://www.dailyactor.com/actors-on-acting/julia-louis-dreyfus/
http://www.dailyactor.com/wp-content/uploads/2016/04/Tituss-Burgess-Unbreakable-Kimmy-Schmidt.jpg
Tituss Burgess on How He Landed His 'Unbreakable Kimmy Schmidt' Role
Burgess reveals how his role on 30 Rock led to 'Kimmy Schmidt' and whether or not he'd consider returning to Broadway.
http://www.dailyactor.com/actors-on-acting/tituss-burgess-unbreakable-kimmy-schmidt-role/
http://www.dailyactor.com/wp-content/uploads/2016/04/Christine-Baranski-The-Good-Wife.jpg
Christine Baranski on the End of 'The Good Wife' and Going Back to Theatre
The final episode of The Good Wife airs on May 8, and it's been several weeks since series star Christine Baranski shot the final episode with her co-stars. She spoke to The Hollywood Reporter about the end of the series she has spent the last seven years working on and what she plans to do […]
http://www.dailyactor.com/actors-on-acting/christine-baranski-the-good-wife-theatre/
http://www.dailyactor.com/wp-content/uploads/2016/04/jake-gyllenhaal-demolition.jpg
Jake Gyllenhaal on 'Demolition', Working with Chris Cooper and Directors Who Want Nothing to Do With Him
"I think storytelling is the most important part of movie-making over performance." - Jake Gyllenhaal
http://www.dailyactor.com/actors-on-acting/jake-gyllenhaal-demolition-chris-cooper/
http://www.dailyactor.com/wp-content/uploads/2016/04/don-cheadle-miles-davis.jpg
Don Cheadle: "Be scared. Be on the edge of your creativity"
"Be willing to fall flat on your face and be in an unknown place. If you're doing that, you're probably growing" - Don Cheadle
http://www.dailyactor.com/actors-on-acting/don-cheadle-scared-creativity/