'Sherlock Holmes' star Martin Freeman Reveals How a Bad Day Almost Cost Him the Role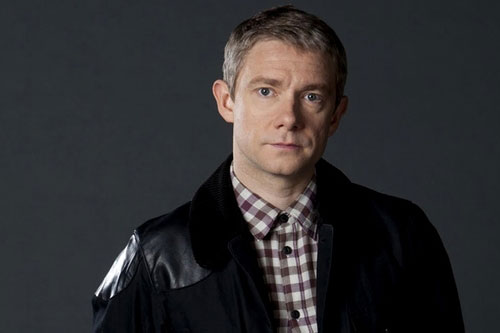 For actors, auditions are a huge part of the process in their careers. However, a bad personal day that they can't shake off can affect the outcome of who wins or loses a role. Just ask British actor Martin Freeman who took his cranky attitude into the audition room after the theft of his wallet.
He was auditioning for the role of Dr. John Watson in the new BBC1 adaptation of Sherlock Holmes and admitted he "wasn't in the best frame of mind."
The Hobbit star explained, "I'll admit maybe I was a bit stressed. But a week later my agent rang and said, 'Listen, this Sherlock thing, they're sort of under the impression you weren't that into it.'"
That's when Freeman realized he had to spring into action in order to save a role that was quickly slipping away from him.
He continued, "And I said 'Oh … I am really interested. Please call them and let them know that I am interested.'"
The 42-year-old actor was lucky that the producers were open to him coming back in and reading again.
"I wasn't being blasé about it at all. I just wasn't on my best day. So I came in again, read with Benedict [Cumberbatch] and it instantly worked, it seemed to me … I thought he was a fantastic actor and there was something about our rhythms, similarities and differences that meant that it just happened," Freeman said.
While The World's End star was lucky to get a second chance, it's great reminder to leave those bad days out in the waiting room before that big audition.
Via The Guardian
http://www.dailyactor.com/wp-content/uploads/2016/04/julia-louis-dreyfus-veep.jpg
Julia Louis-Dreyfus: "Opportunity for women in television has increased. It's because the landscape has widened"
"I did not come out of SNL as any kind of name. I didn't do anything particularly great when I was there. I didn't. It's fine. But I learned a tremendous amount."
http://www.dailyactor.com/actors-on-acting/julia-louis-dreyfus/
http://www.dailyactor.com/wp-content/uploads/2016/04/Tituss-Burgess-Unbreakable-Kimmy-Schmidt.jpg
Tituss Burgess on How He Landed His 'Unbreakable Kimmy Schmidt' Role
Burgess reveals how his role on 30 Rock led to 'Kimmy Schmidt' and whether or not he'd consider returning to Broadway.
http://www.dailyactor.com/actors-on-acting/tituss-burgess-unbreakable-kimmy-schmidt-role/
http://www.dailyactor.com/wp-content/uploads/2016/04/Christine-Baranski-The-Good-Wife.jpg
Christine Baranski on the End of 'The Good Wife' and Going Back to Theatre
The final episode of The Good Wife airs on May 8, and it's been several weeks since series star Christine Baranski shot the final episode with her co-stars. She spoke to The Hollywood Reporter about the end of the series she has spent the last seven years working on and what she plans to do […]
http://www.dailyactor.com/actors-on-acting/christine-baranski-the-good-wife-theatre/
http://www.dailyactor.com/wp-content/uploads/2016/04/jake-gyllenhaal-demolition.jpg
Jake Gyllenhaal on 'Demolition', Working with Chris Cooper and Directors Who Want Nothing to Do With Him
"I think storytelling is the most important part of movie-making over performance." - Jake Gyllenhaal
http://www.dailyactor.com/actors-on-acting/jake-gyllenhaal-demolition-chris-cooper/
http://www.dailyactor.com/wp-content/uploads/2016/04/don-cheadle-miles-davis.jpg
Don Cheadle: "Be scared. Be on the edge of your creativity"
"Be willing to fall flat on your face and be in an unknown place. If you're doing that, you're probably growing" - Don Cheadle
http://www.dailyactor.com/actors-on-acting/don-cheadle-scared-creativity/