'Rake' star John Ortiz Reflects on his 20-Year Career: From 'Carlito's Way' to his New FOX Show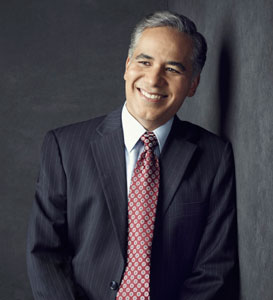 Actor John Ortiz is back on TV. He will hitting the small screen on Jan. 23 in FOX's new show Rake with Greg Kinnear. The series focuses in on a Los Angeles defense attorney, played by Kinnear, who can't seem to stay out of trouble. Ortiz plays a fellow lawyer who's a gambler in love with a prostitute.
Off-beat characters like this are familiar territory to Ortiz who first hit the big screen as a drug dealer in Carlito's Way in 1993. He even went on to the Great White Way in 2003 in the Pulitzer Prize-winning show Anna in the Tropics. The show also starred Jimmy Smits and David Zayas.
The 45-year-old actor reflected on his varied career with the New York Daily News, "I feel blessed. I never wanted to be an actor. It just happened all by chance and fate. I was studying to be a teacher."
Things seemed to have worked out quite well for the Ortiz because he's still in the game decades later.
He said, "I decided to give it a try, and 20 years later, here I am doing something that I never in a million years imagined myself making a career out of. I always felt that, without trying to sound too hokey, I was just a part of it… that it was a gift. And I still feel that way. And sometimes I have to remind myself of that."
It's also something he doesn't take for granted though. He's grateful for a career that has given him incredible opportunities.
"Yeah, I think I was given a talent, and I've been able to nurture it and feed it, and hone in on those things and work on some of my weaknesses," Ortiz explained. "But for the big-picture part of it, it still is a true blessing."
http://www.dailyactor.com/wp-content/uploads/2016/06/jeff-bridges-hell-or-high-water.jpg
Jeff Bridges on Creating a Character, 'Hell or High Water' and Playing The Dude
"I use elements of myself—I see my parallels with a character—and find similar things in my own personality." - Jeff Bridges on Creating a Character
http://www.dailyactor.com/actors-on-acting/jeff-bridges-creating-a-character/
http://www.dailyactor.com/wp-content/uploads/2016/07/benjamin-bratt-actor.jpg
Benjamin Bratt: "For as limiting as the opportunities are for actors and actresses of color I've been very blessed"
"...it's dangerous to keep going down the same artistic path." - Benjamin Bratt
http://www.dailyactor.com/actors-on-acting/benjamin-bratt-ive-been-very-blessed/
http://www.dailyactor.com/wp-content/uploads/2016/07/watch-keegan-michael-key-explain.jpg
Watch: Keegan-Michael Key Explains Why "Improv actors are at war together"
Check out Key's points on why it's so important for improv actors to have each others' backs in the clip above.
http://www.dailyactor.com/actors-on-acting/keegan-michael-key-improv-actors-at-war-together/
http://www.dailyactor.com/wp-content/uploads/2016/07/norman-reedus-actor.jpg
Norman Reedus on Acting: "If it's something you really want, you have to roll with the rejection"
Norman Reedus is a fan-favorite star on The Walking Dead and was in the cult favorite film The Boondock Saints. However, in the dozen years between those two gigs Reedus had experienced ups and downs in his career and in many cases he was cast in very small roles in big movies or lead roles […]
http://www.dailyactor.com/actors-on-acting/norman-reedus-acting-rejection/
http://www.dailyactor.com/wp-content/uploads/2016/07/frank-grillo.jpg
Frank Grillo on Being Typecast: "I welcome it"
"I hear actors pooh-pooh the idea... people might see them as a certain thing. I welcome it" - Frank Grillo on Typecasting
http://www.dailyactor.com/actors-on-acting/frank-grillo-on-typecasting/