PaleyFest 2013: The Cast of 'Parenthood' talk Tearjerking Episodes and Trying to "Exist in the Moment"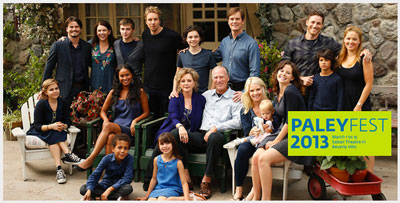 One thing was clear from the PaleyFest event on Thursday night—the cast of Parenthood is definitely on board for a fifth season.  But the series' fate is in the hands of NBC, who has yet to renew the acclaimed (but noted ratings-challenged) show.
Paleyfest is a night where television fans can gather to celebrate some of the best shows on TV.  The panel at the Saban Theater in Beverly Hills was a full one—with show-runner Jason Katims (Friday Night Lights) on hand with pretty much all of the cast, including fan favorites Dax Shephard, Peter Krause, Lauren Graham, and Monica Potter.
The theme of the night was how emotional the show can be—moderator Michael Ausiello noted that the series has become somewhat famous for its tearjerker quality.  After airing an especially moving episode, "I Have Something I Need to Tell You," from earlier this season, most of the audience in the theater was plucking Kleenex from boxes being offered by ushers.  The storyline featured in the episode is about Kristina's bout with breast cancer.
"The most rewarding thing was telling the story truthfully and accurately," Krause said.  The actor is just one member of the cast who pulled his weight this season as Kristina's husband, Adam, and faithful support system throughout her illness.
The idea of portraying relationships and honesty is often a keystone for the writers of Parenthood.  One of the more controversial episodes of the season occurred when the teenage son of Graham's character got his girlfriend pregnant.  "This one was a particularly difficult one," Katims said, about having the girlfriend ultimately decide to go through with an abortion.  "It's a tricky subject matter, but I felt in my gut that it was a story I wanted to tell.  We set out in a way to make sure we were accurate, but to also be very sensitive.  I didn't want to politicize it…We wanted to get underneath the story and tell them in a way that we feel is as real as possible."
The audience questions revealed this connection to truthful and realistic plotlines, when several attendees mentioned their own struggles, including being gay, adopting children, and facing their own bouts with cancer.
But that's not to say the night wasn't without humor.  Graham spoke about finding out her TV boyfriend, Jason Ritter (who also appeared at the event), was shooting a pilot with her former TV daughter, Alexis Bledel (from Gilmore Girls.)  "They always trade you in for someone younger, don't they?" Graham joked.
It was apparent how comfortable the cast is with each other, especially when Mae Whitman (who plays Graham's daughter, Amber) remarked how it's a nightmare for any director to work with the cast as a whole in large family scenes.  But the lightheartedness among the cast has resulted in a camaraderie that has only made the cast stronger.  After several seasons working together, they've finally jelled.
"We shoot with three cameras, both sides of the scene at once, which allows the actors to react to each other and exist in the moment—and what happens in those real moments would never have been discovered," Katims said.  "So many of the greatest moments of the show have come from that process…The actors are now so in-tune and know how to do it that I think it elevates the scene and makes it seem much more lifelike."
Now it's up to NBC to make sure that the cast gets to continue turning out this quality show for a fifth season.  
http://www.dailyactor.com/wp-content/uploads/2016/04/Christine-Baranski-The-Good-Wife.jpg
Christine Baranski on the End of 'The Good Wife' and Going Back to Theatre
The final episode of The Good Wife airs on May 8, and it's been several weeks since series star Christine Baranski shot the final episode with her co-stars. She spoke to The Hollywood Reporter about the end of the series she has spent the last seven years working on and what she plans to do […]
http://www.dailyactor.com/tv/christine-baranski-the-good-wife-theatre/
http://www.dailyactor.com/wp-content/uploads/2016/04/jake-gyllenhaal-demolition.jpg
Jake Gyllenhaal on 'Demolition', Working with Chris Cooper and Directors Who Want Nothing to Do With Him
"I think storytelling is the most important part of movie-making over performance." - Jake Gyllenhaal
http://www.dailyactor.com/actors-on-acting/jake-gyllenhaal-demolition-chris-cooper/
http://www.dailyactor.com/wp-content/uploads/2016/04/don-cheadle-miles-davis.jpg
Don Cheadle: "Be scared. Be on the edge of your creativity"
"Be willing to fall flat on your face and be in an unknown place. If you're doing that, you're probably growing" - Don Cheadle
http://www.dailyactor.com/actors-on-acting/don-cheadle-scared-creativity/
http://www.dailyactor.com/wp-content/uploads/2016/04/jessie-eisenberg-louder-than-bombs.jpg
What is Jesse Eisenberg's "Most Fulfilling Acting Experience"?
"My absolute favorite thing to do is to write a play and then, after I finish, do the first reading of it with my friends around the table"- Jesse Eisenberg
http://www.dailyactor.com/actors-on-acting/jesse-eisenberg-most-fulfilling-acting-experience/
http://www.dailyactor.com/wp-content/uploads/2016/03/Lupita-Nyong'o-eclipsed.jpg
Lupita Nyong'o on Her Broadway Debut: "When we get up on that stage, you do not know what will happen"
"I think theater offers a chance to flex muscles that then only help to sustain cinematic work." - Lupita Nyong'o
http://www.dailyactor.com/actors-on-acting/lupita-nyongo-eclipsed-broadway/