Nick Offerman Shares His 2 Rules of Success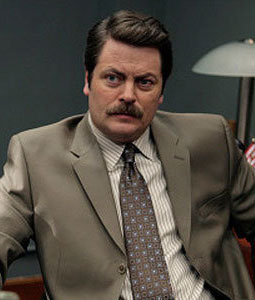 At first glance, one wouldn't expect macho-looking actor Nick Offerman to care about being polite.  But the star of NBC's Parks and Recreation attributes his niceness to getting ahead in the industry.
In an interview with GQ, Offerman was happy to share some rules he thinks will help people in Hollywood.  "I would say, first of all, be prepared.  I can't say enough about that.  Right now I'm traveling in New York City, but I still have my Swiss army knife on me.  I grew up among farmers in Illinois and so you always have to have the tools you might need in the eventuality of a flat tire or a broken window. In the traditional role of man, it falls to you to keep the weather out and fish in the boat," he said.
"Two: be polite. Good manners have gotten me as far as anything else in this business. The first film I did, Chain Reaction, was with Keanu Reeves and Morgan Freeman.  I had some really nice scenes as Keanu's building super, which were then completely cut from the film.  Anyway, at the end of my day on set, I hung up my costume in the trailer, and the wardrobe assistant came to pick it up.  I said something involving please and thank you.  She stopped, put her hands on her heart, and said, 'Can I just say thank you so much for treating me like that, and for hanging up your clothes?'  I said, 'Are you kidding me?'  And it quickly became clear, as I continued working, that having manners was equivalent to a superpower in the business."
But after 20 years working as an actor, Offerman thinks things might actually be improving.  "On Parks, for example, there's kind of a No Assholes rule," he said.  "You cannot get away with diva behavior on our set.  It certainly does exist in the industry, but it's not as prevalent.  You can see it in the cars.  When young people come into money in Hollywood these days, they no longer buy the muscle car, they buy the Prius.  It's amazing to me, the parking row at my show—all these 26-year-old wunderkinds who went to Harvard or Brown and, boom, in three years they're on the writing staff of Parks.  And literally it's a fleet of Priuses on the lot.  That gives me a lot of hope that we're evolving."
http://www.dailyactor.com/wp-content/uploads/2016/06/jeff-bridges-hell-or-high-water.jpg
Jeff Bridges on Creating a Character, 'Hell or High Water' and Playing The Dude
"I use elements of myself—I see my parallels with a character—and find similar things in my own personality." - Jeff Bridges on Creating a Character
http://www.dailyactor.com/actors-on-acting/jeff-bridges-creating-a-character/
http://www.dailyactor.com/wp-content/uploads/2016/07/benjamin-bratt-actor.jpg
Benjamin Bratt: "For as limiting as the opportunities are for actors and actresses of color I've been very blessed"
"...it's dangerous to keep going down the same artistic path." - Benjamin Bratt
http://www.dailyactor.com/actors-on-acting/benjamin-bratt-ive-been-very-blessed/
http://www.dailyactor.com/wp-content/uploads/2016/07/watch-keegan-michael-key-explain.jpg
Watch: Keegan-Michael Key Explains Why "Improv actors are at war together"
Check out Key's points on why it's so important for improv actors to have each others' backs in the clip above.
http://www.dailyactor.com/actors-on-acting/keegan-michael-key-improv-actors-at-war-together/
http://www.dailyactor.com/wp-content/uploads/2016/07/norman-reedus-actor.jpg
Norman Reedus on Acting: "If it's something you really want, you have to roll with the rejection"
Norman Reedus is a fan-favorite star on The Walking Dead and was in the cult favorite film The Boondock Saints. However, in the dozen years between those two gigs Reedus had experienced ups and downs in his career and in many cases he was cast in very small roles in big movies or lead roles […]
http://www.dailyactor.com/actors-on-acting/norman-reedus-acting-rejection/
http://www.dailyactor.com/wp-content/uploads/2016/07/frank-grillo.jpg
Frank Grillo on Being Typecast: "I welcome it"
"I hear actors pooh-pooh the idea... people might see them as a certain thing. I welcome it" - Frank Grillo on Typecasting
http://www.dailyactor.com/actors-on-acting/frank-grillo-on-typecasting/