'The Newsroom', 'The Babymakers' & 'The Daily Show': Olivia Munn is Having a Great Year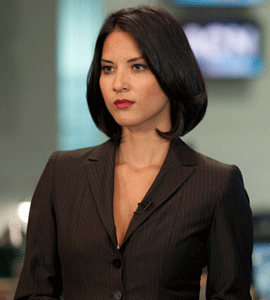 Hollywood is not an easy place. Despite dreams and general perceptions of what some consider "overnight success," there is rarely, if ever, anything comparable to that particular occurrence. Olivia Munn, star of Aaron Sorkin's new HBO drama, "The Newsroom," is an actor who has worked long and hard for her recent success, even if her career appears to have blown up "overnight." Zorianna Kit of Reuters reported on Munn, and her growing career.
In addition to "The Newsroom," Munn is starring in the indie comedy, "The Babymakers," which arrives in theaters this weekend. Munn also played a supporting role in Steven Soderbergh's "Magic Mike."
With all of this recent success, Munn credits her hosting on Jon Stewart's "The Daily Show" with truly putting her talent on the map. "It put me on a different level … I was the first female on the show in seven years and the first correspondent in five years. When you change up something that people watch every day, they are going to take notice."
And get noticed, she did – by Aaron Sorkin, that is.
Of course, Sorkin's unique writing can provide a bit of a challenge for any actor. However, Munn feels up to the task. "I speak very fast normally … My Asian mother is always telling me to slow down. The biggest challenge is doing justice to Sorkin's dialogue. It has a melody to it, and Sloan has a different cadence than I do … The challenge is learning the character so well that it becomes second nature."
Reuters continued to report that Munn considers this a "'very exciting' time in a career that has finally come together after years of hard work. And although she may not know what roles the future holds, she is certain of one thing: 'I don't want this to be temporary.'"
http://www.dailyactor.com/wp-content/uploads/2016/04/jake-gyllenhaal-demolition.jpg
Jake Gyllenhaal on 'Demolition', Working with Chris Cooper and Directors Who Want Nothing to Do With Him
"I think storytelling is the most important part of movie-making over performance." - Jake Gyllenhaal
http://www.dailyactor.com/actors-on-acting/jake-gyllenhaal-demolition-chris-cooper/
http://www.dailyactor.com/wp-content/uploads/2016/04/don-cheadle-miles-davis.jpg
Don Cheadle: "Be scared. Be on the edge of your creativity"
"Be willing to fall flat on your face and be in an unknown place. If you're doing that, you're probably growing" - Don Cheadle
http://www.dailyactor.com/actors-on-acting/don-cheadle-scared-creativity/
http://www.dailyactor.com/wp-content/uploads/2016/04/jessie-eisenberg-louder-than-bombs.jpg
What is Jesse Eisenberg's "Most Fulfilling Acting Experience"?
"My absolute favorite thing to do is to write a play and then, after I finish, do the first reading of it with my friends around the table"- Jesse Eisenberg
http://www.dailyactor.com/actors-on-acting/jesse-eisenberg-most-fulfilling-acting-experience/
http://www.dailyactor.com/wp-content/uploads/2016/03/Lupita-Nyong'o-eclipsed.jpg
Lupita Nyong'o on Her Broadway Debut: "When we get up on that stage, you do not know what will happen"
"I think theater offers a chance to flex muscles that then only help to sustain cinematic work." - Lupita Nyong'o
http://www.dailyactor.com/actors-on-acting/lupita-nyongo-eclipsed-broadway/
http://www.dailyactor.com/wp-content/uploads/2016/03/jake-gyllenhaal-demolition.jpg
Jake Gyllenhaal on Missed Superhero Opportunities and Portraying "Antisocial" Characters
"I've always wanted to have the opportunity to play a number of different roles, and I knew it wasn't necessarily the role, but how you played them" - Jake Gyllenhaal
http://www.dailyactor.com/actors-on-acting/jake-gyllenhaal-antisocial-characters/