Michael Douglas on Playing Liberace in HBO's 'Behind the Candelabra'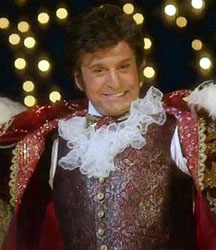 A biopic on the life of flamboyant entertainer Liberace has been in the works for some time, with Michael Douglas attached to play the lead.  The biopic, titled Behind the Candelabra and based on the book by Liberace's lover Scott Thorson, is finally set to air on HBO in the spring.  In the movie Matt Damon plays Thorson, and during a press event at the Television Critics Association Winter Tour with Douglas and Damon Douglas talked about the challenge of playing such a well-known entertainer. 
To Douglas, it was important to know he wasn't just doing a cheap imitation.  He explains, "There's a tremendous amount of clips and films that certainly give you a sense, an idea [of Liberace].  It's basically a repetition process of looking at a lot of stuff and finding that balance between knowing you're not an impersonator, you're not going to be exactly like Liberace, and trying to find the balance that makes you comfortable, that makes you secure and makes myself attractive to Matt."
I love how making himself "attractive to Matt" was a major part of the job!
via Yahoo! News
http://www.dailyactor.com/wp-content/uploads/2016/08/imperium_daniele_radcliffe.jpg
Daniel Radcliffe on Playing a Neo-Nazi in 'Imperium': "It's still just horrible to say some of this stuff"
Radcliffe reveals how he played such a layered character and what it felt like to say his character's hate-filled dialogue.
http://www.dailyactor.com/film/daniel-radcliffe-playing-a-neo-nazi-imperium/
http://www.dailyactor.com/wp-content/uploads/2016/08/John-Cho-Star-Trek-Beyond.jpg
How John Cho Took A Stand for Diversity Early in His Career
"When one does speak one's mind, one might be surprised at how receptive people are." - Actor John Cho
http://www.dailyactor.com/film/john-cho-took-a-stand-for-diversity/
http://www.dailyactor.com/wp-content/uploads/2016/08/simon-helberg-florence-foster-jenkins.jpg
Simon Helberg on His 'Florence Foster Jenkins' Role: "I'm an actor and I want to stretch different muscles"
Helberg spoke about portraying his character in the film and whether or not he feels typecast by his Big Bang Theory role.
http://www.dailyactor.com/film/simon-helberg-florence-foster-jenkins-role/
http://www.dailyactor.com/wp-content/uploads/2016/08/Will-Chase-Something-Rotten.jpg
The Role That Got Away: Will Chase on Returning to 'Something Rotten!'
"I know that I am a poor man's fill-in-the-blank. And I know that there are poor man's Will Chases out there. That's just the nature of the business" - Will Chase
http://www.dailyactor.com/broadway-theater/will-chase-something-rotten-role-that-got-away/
http://www.dailyactor.com/wp-content/uploads/2016/08/Julia-Stiles-Jason-Bourne.jpg
Julia Stiles on the Jason Bourne Series and Growing as an Actress: "There's always room for improvement"
"I like a director that encourages me to be playful. I don't really like being restricted or controlled by a director." - Julia Stiles
http://www.dailyactor.com/film/julia-stiles-growing-as-an-actress/