Megan Hilty on Season 2 of 'Smash'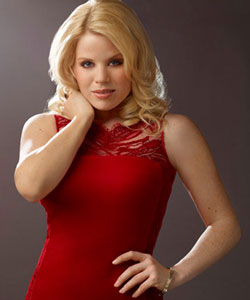 Actress Megan Hilty, who plays Ivy Lynn, is keeping on the positive side in light of the wave of changes that has taken over Smash's second season now that actors Raza Jaffrey, Will Chase, and Brian d'Arcy James have all departed their posts.  "Well, the energy is definitely going to be different. But this kind of change is inevitable in any business, but particularly ours. I've certainly experienced it personally. It's going to be sad not to see my old friends around, but we're going to make new friends too. It'll be fun," Hilty noted optimistically.
The actress also spoke about the behind the scenes changes taking place with Huffington Post.  "I know they're getting a couple of new writers for that music, and I'm really excited to see who they find. That's such a huge element of what actually happens in New York. I'm glad they're capturing that in the storyline!"
And with all of the changes Smash is undergoing it looks like Hilty's alter ego might fall under that umbrella as well.  ""I'm hoping that she gets it together a little bit, and that she can actually have something she can celebrate and not feel insecure about because of certain people. I'd kind of like her to get something and have it taken away again. But if she just has a moment of happiness that would be great for me!"
NBC's Smash will return to the network in the midseason line-up.
http://www.dailyactor.com/wp-content/uploads/2016/08/imperium_daniele_radcliffe.jpg
Daniel Radcliffe on Playing a Neo-Nazi in 'Imperium': "It's still just horrible to say some of this stuff"
Radcliffe reveals how he played such a layered character and what it felt like to say his character's hate-filled dialogue.
http://www.dailyactor.com/actors-on-acting/daniel-radcliffe-playing-a-neo-nazi-imperium/
http://www.dailyactor.com/wp-content/uploads/2016/08/John-Cho-Star-Trek-Beyond.jpg
How John Cho Took A Stand for Diversity Early in His Career
"When one does speak one's mind, one might be surprised at how receptive people are." - Actor John Cho
http://www.dailyactor.com/actors-on-acting/john-cho-took-a-stand-for-diversity/
http://www.dailyactor.com/wp-content/uploads/2016/08/simon-helberg-florence-foster-jenkins.jpg
Simon Helberg on His 'Florence Foster Jenkins' Role: "I'm an actor and I want to stretch different muscles"
Helberg spoke about portraying his character in the film and whether or not he feels typecast by his Big Bang Theory role.
http://www.dailyactor.com/actors-on-acting/simon-helberg-florence-foster-jenkins-role/
http://www.dailyactor.com/wp-content/uploads/2016/08/Will-Chase-Something-Rotten.jpg
The Role That Got Away: Will Chase on Returning to 'Something Rotten!'
"I know that I am a poor man's fill-in-the-blank. And I know that there are poor man's Will Chases out there. That's just the nature of the business" - Will Chase
http://www.dailyactor.com/actors-on-acting/will-chase-something-rotten-role-that-got-away/
http://www.dailyactor.com/wp-content/uploads/2016/08/Julia-Stiles-Jason-Bourne.jpg
Julia Stiles on the Jason Bourne Series and Growing as an Actress: "There's always room for improvement"
"I like a director that encourages me to be playful. I don't really like being restricted or controlled by a director." - Julia Stiles
http://www.dailyactor.com/actors-on-acting/julia-stiles-growing-as-an-actress/