Matthew Morrison Talks "Glee," Friends and Broadway
In a recent promotional spot for Microsoft search engine Bing, Glee star Matthew Morrison talked about the road to television stardom and his real-life supporting cast of friends and family.
While Morrison was attending high school at the Orange County High School of the Arts, school president Dr. Ralph Opacic "made it real clear to me that I had something special and I should continue on with the arts," says the 32-year-old actor, who was undecided between theater and soccer at the time.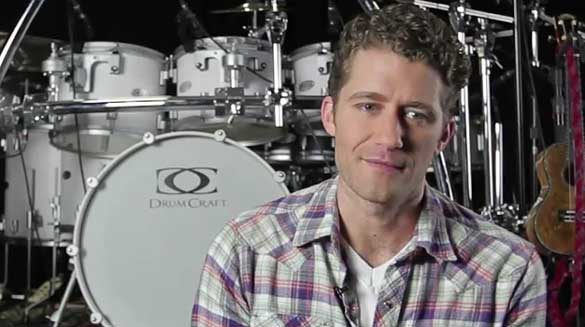 A few years back, Morrison went to an early Glee try-out on a whim. "I had done about 10 years of Broadway shows and I was kind of looking for the next thing," he recalls in the video. "I went to this random audition, sang a couple songs and they liked me."
The show, which follow the trials and tribulations of a singing club at an Ohio high school, has certainly been a boon to Morrison's career. "Glee kind of worked out in a big way for me," laughs Morrison, who plays club director/Spanish teacher Will Schuester.
According to Morrison, he couldn't have done without support from those around him. "I'm lucky to have such a great core group of friends and family in my life…" he says. "They've really supported me in my pursuit of chasing my dreams. I'm so lucky to have them in my life."
http://www.dailyactor.com/wp-content/uploads/2015/10/Bridge-of-Spies-Tom-Hanks-Mark-Rylance.jpg
Tom Hanks on Working with Steven Spielberg and Mark Rylance in 'Bridge of Spies'
"Steven does this incredible thing when he casts you: He empowers you with the scene." - Tom Hanks on Steven Spielberg
http://www.dailyactor.com/actors-on-acting/tom-hanks-working-steven-spielberg-mark-rylance-bridge-of-spies/
http://www.dailyactor.com/wp-content/uploads/2015/09/Tom-Hardy-Legend.jpg
Tom Hardy on Playing Twins in 'Legend,' Being Seen as a Tough Guy, and Working with Philip Seymour Hoffman
Hardy speaks about why he challenged himself to play twins, what he thinks of his tough guy image, and working with the late Philip Seymour Hoffman, who directed him on stage.
http://www.dailyactor.com/actors-on-acting/tom-hardy-playing-twins-legend/
http://www.dailyactor.com/wp-content/uploads/2015/09/Emily-Blunt-Sicario.jpg
Emily Blunt on Action Movie Roles: "I think it's important to show different layers. Nobody is just tough, nobody is just vulnerable"
Emily Blunt touches upon why she has gotten into roles with an action bent and why she thinks there aren't more action movies with female leads
http://www.dailyactor.com/actors-on-acting/emily-blunt-sicario-acting-layers/
http://www.dailyactor.com/wp-content/uploads/2015/09/Jorja-Fox-CSI.jpg
Jorja Fox on Life After 'CSI': "I've always enjoyed not knowing exactly where the road leads"
"I think you kind of have to embrace the unknown if you're an actor." - Jorja Fox
http://www.dailyactor.com/actors-on-acting/jorja-fox-life-after-csi/
http://www.dailyactor.com/wp-content/uploads/2015/09/John-Turturro-Mia-Madre.jpg
John Turturro on the Life of an Actor: "It's a rough business. I wouldn't want my kids to do it"
"I am usually very well prepared. If you're a surgeon, you've got to know what you're going to take out today." - John Turturro
http://www.dailyactor.com/actors-on-acting/john-turturro-life-of-an-actor/