Matthew Broderick Explains Why He Made Honda's Ferris Bueller-themed Super Bowl Commercial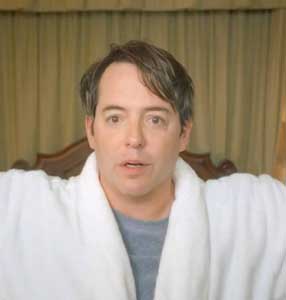 By now it's no secret that Honda is airing a commercial during Sunday's Super Bowl with Matthew Broderick portraying a very Ferris Bueller-like day off from his busy movie career. 
But what convinced Broderick to take a nostalgia trip back to his 1986 career-making, cult-favorite role from Ferris Bueller's Day Off? 
As he explains to New York Magazine, "It took a little, uh, thinking about it, it took a little time, but I ended up thinking it might be amusing."   Another reason for participating was that the two-and-a-half minute commercial was directed by Todd Phillips (The Hangover films), and Broderick adds, "Todd Phillips was directing it, who's a good director, and I thought it would be fun to send up Ferris Bueller a little bit." 
Broderick was concerned how the commercial would turn out, since he spent four days "running around L.A. … thinking, 'I hope this is a good idea.'"  But since Honda released the commercial early it's gotten a tremendous amount of positive buzz, already exceeding four million views on YouTube. 
So Ferris Bueller goes from faking having a virus to going viral?  Or, as Broderick says, "I guess I'm part of a virus."  
You can check out the commercial before the big game below:
http://www.dailyactor.com/wp-content/uploads/2015/10/Bridge-of-Spies-Tom-Hanks-Mark-Rylance.jpg
Tom Hanks on Working with Steven Spielberg and Mark Rylance in 'Bridge of Spies'
"Steven does this incredible thing when he casts you: He empowers you with the scene." - Tom Hanks on Steven Spielberg
http://www.dailyactor.com/actors-on-acting/tom-hanks-working-steven-spielberg-mark-rylance-bridge-of-spies/
http://www.dailyactor.com/wp-content/uploads/2015/09/Tom-Hardy-Legend.jpg
Tom Hardy on Playing Twins in 'Legend,' Being Seen as a Tough Guy, and Working with Philip Seymour Hoffman
Hardy speaks about why he challenged himself to play twins, what he thinks of his tough guy image, and working with the late Philip Seymour Hoffman, who directed him on stage.
http://www.dailyactor.com/actors-on-acting/tom-hardy-playing-twins-legend/
http://www.dailyactor.com/wp-content/uploads/2015/09/Emily-Blunt-Sicario.jpg
Emily Blunt on Action Movie Roles: "I think it's important to show different layers. Nobody is just tough, nobody is just vulnerable"
Emily Blunt touches upon why she has gotten into roles with an action bent and why she thinks there aren't more action movies with female leads
http://www.dailyactor.com/actors-on-acting/emily-blunt-sicario-acting-layers/
http://www.dailyactor.com/wp-content/uploads/2015/09/Jorja-Fox-CSI.jpg
Jorja Fox on Life After 'CSI': "I've always enjoyed not knowing exactly where the road leads"
"I think you kind of have to embrace the unknown if you're an actor." - Jorja Fox
http://www.dailyactor.com/actors-on-acting/jorja-fox-life-after-csi/
http://www.dailyactor.com/wp-content/uploads/2015/09/John-Turturro-Mia-Madre.jpg
John Turturro on the Life of an Actor: "It's a rough business. I wouldn't want my kids to do it"
"I am usually very well prepared. If you're a surgeon, you've got to know what you're going to take out today." - John Turturro
http://www.dailyactor.com/actors-on-acting/john-turturro-life-of-an-actor/