Lizzy Caplan On How She Coped With Her First Sex Scene: "I was chugging vodka completely naked"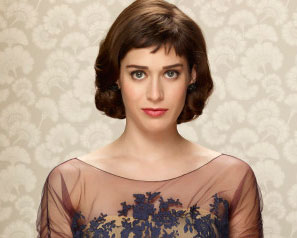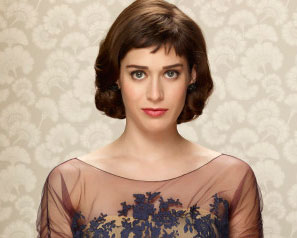 It might be one of the most awkward moments in an actor's career, the sex scene. For some thespians, it's just another day at the office. For one celebrity, it was time to hit the bottle.
On a recent appearance on Chelsea Lately, Lizzy Caplan admitted that she was drunk during a raw sex scene with her True Blood co-star Ryan Kwanten. The scene occurred during Season 1 of the vampire show when the actress decided that she needed to have a few drinks to calm her nerves.
She told Handler, "I was hammered for that. I didn't really have lines the first time. It was like 7 a.m. … and I was chugging vodka completely naked while a makeup artist I had just met was on her knees in front of me sponging my (butt). It's intimate."
It's definitely one way to cope, but the Masters of Sex star might have taken it a bit too far.
She laughed, "I've never told anybody this — but I was so nervous and then I was so drunk that after I shot the scene I was going up to the crew members — I had just met all these people the day before — and I was going up to all of them like,'You got a boner! You do! You've got one!' It was horrible. Horrible!"
While this definitely gives the 31-year-old star a good story on the talk show circuit, other actors might want to find another way to cope with scripted sex scenes.
Caplan starred in six episodes of the HBO show in 2008. She now handles her sex scenes on Masters of Sex with Michael Sheen like a total pro.
Via USA Today
http://www.dailyactor.com/wp-content/uploads/2016/02/alicia-Vikander-Ex-machina.jpg
Alicia Vikander on the Her First Trip to L.A. and the Acting Tip 'Ex-Machina' Director Alex Garland Gave Her
"You [get immersed in] a film and of course you think that that is it. And then you go away and you read a new script and you have a new crush" - Alicia Vikander
http://www.dailyactor.com/actors-on-acting/alicia-vikanderacting-tip-ex-machina-director-alex-garland-gave-her/
http://www.dailyactor.com/wp-content/uploads/2016/02/Channing-Tatum-Hail-Caesar.jpg
Channing Tatum Talks 'Hail, Caesar!': "I've been beating on the Coens' door for years, man"
"It's the most I've ever prepped for a six-minute section in a movie." - Channing Tatum
http://www.dailyactor.com/actors-on-acting/channing-tatum-hail-caesar-tap-dancing/
http://www.dailyactor.com/wp-content/uploads/2016/01/Isidora-Goreshter-Shameless-audition.jpg
Isidora Goreshter Remembers Her Audition for 'Shameless'
Goreshter recently recalled that her audition for the 'Shameless' was by far her worst ever.
http://www.dailyactor.com/actors-on-acting/isidora-goreshter-audition-for-shameless/
http://www.dailyactor.com/wp-content/uploads/2016/01/Sutton-Foster-Younger.jpg
Sutton Foster: "Sometimes I won't even find a character until I put on the costume"
"I never had grand aspirations to be a movie star, to be famous or to be on TV. The theater was what I wanted." - Sutton Foster
http://www.dailyactor.com/actors-on-acting/sutton-foster-younger-character-costume/
http://www.dailyactor.com/wp-content/uploads/2016/01/Paul-Giamatti-Billions.jpg
Paul Giamatti on Building His Career: "I was always willing to just go, 'OK, sure, I'll do that'"
"I've done everything an actor can do except porn and performing in an amusement park" - Paul Giamatti
http://www.dailyactor.com/actors-on-acting/paul-giamatti-billions-building-an-acting-career/