Linda Cardellini on Her Audition for 'Mad Men' and Her "Objective" When Seeking Roles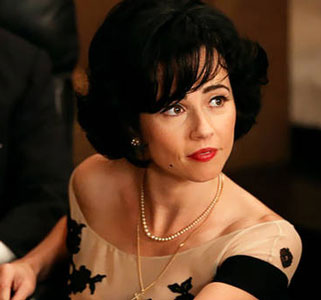 Linda Cardellini wasn't expecting to get the role of Sylvia Rosen on AMC's Mad Men.
"I had to audition, and Matt Weiner [the Mad Men creator and show runner] was in the room," she recalled in an interview with The New York Times.  "I had just had a baby and it was the first time I had really contemplated coming back to work.  I wasn't even sleeping through the night with my baby yet, and I wasn't sure if I was going to be able to retain the information or know the lines.  I was very lucky to get the part."
It's not like Cardellini had much background upon which she could build her character.  The show is notorious for being tight-lipped about plot points.  "You know nothing about what it is you're doing when you come in," she said.  "The character's name was Sylvia, but I did not know it was Don [that she was interacting with] at that point.  I've never worked in that way, and it kept me in the moment.  You can't play the end of your arc, because you don't know it yet."
The actress, who got her breakout role on the Freaks and Geeks series, admits that she doesn't necessarily seek out roles that will distance her from the show or her role in the Scooby Doo movies.
"I don't make that an objective at all," she said.  "For me, the objective isn't to try to make anybody forget anything that I've done, but I want people to know that there's a lot of different things I can do.  People who have no idea it's me when they first see me playing something, and later they realize, that's her from whatever it is, it's a great compliment that they can forget.  When I was doing Scooby Doo, nobody knew it was me.  That's the fun part of it, being able to hide inside of a character and change yourself."
Mad Men airs on AMC, Sundays at 10 p.m.
http://www.dailyactor.com/wp-content/uploads/2016/08/John-Cho-Star-Trek-Beyond.jpg
How John Cho Took A Stand for Diversity Early in His Career
"When one does speak one's mind, one might be surprised at how receptive people are." - Actor John Cho
http://www.dailyactor.com/film/john-cho-took-a-stand-for-diversity/
http://www.dailyactor.com/wp-content/uploads/2016/08/simon-helberg-florence-foster-jenkins.jpg
Simon Helberg on His 'Florence Foster Jenkins' Role: "I'm an actor and I want to stretch different muscles"
Helberg spoke about portraying his character in the film and whether or not he feels typecast by his Big Bang Theory role.
http://www.dailyactor.com/film/simon-helberg-florence-foster-jenkins-role/
http://www.dailyactor.com/wp-content/uploads/2016/08/Will-Chase-Something-Rotten.jpg
The Role That Got Away: Will Chase on Returning to 'Something Rotten!'
"I know that I am a poor man's fill-in-the-blank. And I know that there are poor man's Will Chases out there. That's just the nature of the business" - Will Chase
http://www.dailyactor.com/broadway-theater/will-chase-something-rotten-role-that-got-away/
http://www.dailyactor.com/wp-content/uploads/2016/08/Julia-Stiles-Jason-Bourne.jpg
Julia Stiles on the Jason Bourne Series and Growing as an Actress: "There's always room for improvement"
"I like a director that encourages me to be playful. I don't really like being restricted or controlled by a director." - Julia Stiles
http://www.dailyactor.com/film/julia-stiles-growing-as-an-actress/
http://www.dailyactor.com/wp-content/uploads/2016/08/Michael-Kenneth-Williams-The-Night-Of.jpg
Michael Kenneth Williams on How His Roles Impact Him: "That energy's gotta go somewhere"
Since his days of playing Omar on 'The Wire', Williams has learned how to separate himself from his characters.
http://www.dailyactor.com/tv/michael-kenneth-williams-the-night-of/