Keri Russell on Her New Risque Role in 'The Americans'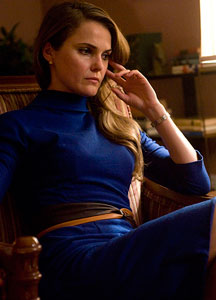 Keri Russell was ready to take on a more risqué role than Felicity.  In her new project, FX's The Americans, Russell portrays a KGB agent posing as part of a happy American couple.  Her character is first seen in a more compromising position than Felicity ever would have been caught in.
Russell's first scene in the pilot episode shows her performing oral sex on a person she needs information from.  After reading the script, Russell recalled, "I was like, Blow job in the hotel room: What?  And also, Who are they gonna get to have big boobs?  Because it's not gonna be me!  I'm like a boy!  Luckily, I was nursing a baby.  Sweet.  Sweeeeet.  No, I love that the character is incredibly sexual, but not in an emotional way.  She's devoted to the cause.  She'll do whatever it takes.  And when it has to be intimate, she's so shut off from it."
Russell also did plenty of research for the role of a Russian superspy.  "I was reading about all kinds of spy work," she said in an interview with Vulture.  "The CIA call sexual traps like the one you saw in the pilot 'honey traps,' which I love.  They're the most successful ploy.  They work every time.  Or almost every time."
This is indeed a very different part from the other roles Russell has taken on, including the risky comedy flop, Running Wilde, which aired in 2010.  After starring alongside Will Arnett in the sitcom, the actress decided to go in a different direction.  "It didn't scare me off of comedy but…I took a break from their kind of comedy," she said.  "They are fucking fast.  It's high stress.  It's just, like, rewrites, right there on set, five pages, go for it.  And you're like [pretends to gasp for air], but they just live in a constant state of that.  Will has an almost photographic memory, so it's easy for him.  Meanwhile, I'm like, 'I hate you right now.'  I was sweating 30 pounds off my body a day."
Looks like Russell will be doing a different type of sweating in this new role.
The Americans airs on FX, Wednesdays at 10 p.m.
http://www.dailyactor.com/wp-content/uploads/2016/08/John-Cho-Star-Trek-Beyond.jpg
How John Cho Took A Stand for Diversity Early in His Career
"When one does speak one's mind, one might be surprised at how receptive people are." - Actor John Cho
http://www.dailyactor.com/film/john-cho-took-a-stand-for-diversity/
http://www.dailyactor.com/wp-content/uploads/2016/08/simon-helberg-florence-foster-jenkins.jpg
Simon Helberg on His 'Florence Foster Jenkins' Role: "I'm an actor and I want to stretch different muscles"
Helberg spoke about portraying his character in the film and whether or not he feels typecast by his Big Bang Theory role.
http://www.dailyactor.com/film/simon-helberg-florence-foster-jenkins-role/
http://www.dailyactor.com/wp-content/uploads/2016/08/Will-Chase-Something-Rotten.jpg
The Role That Got Away: Will Chase on Returning to 'Something Rotten!'
"I know that I am a poor man's fill-in-the-blank. And I know that there are poor man's Will Chases out there. That's just the nature of the business" - Will Chase
http://www.dailyactor.com/broadway-theater/will-chase-something-rotten-role-that-got-away/
http://www.dailyactor.com/wp-content/uploads/2016/08/Julia-Stiles-Jason-Bourne.jpg
Julia Stiles on the Jason Bourne Series and Growing as an Actress: "There's always room for improvement"
"I like a director that encourages me to be playful. I don't really like being restricted or controlled by a director." - Julia Stiles
http://www.dailyactor.com/film/julia-stiles-growing-as-an-actress/
http://www.dailyactor.com/wp-content/uploads/2016/08/Michael-Kenneth-Williams-The-Night-Of.jpg
Michael Kenneth Williams on How His Roles Impact Him: "That energy's gotta go somewhere"
Since his days of playing Omar on 'The Wire', Williams has learned how to separate himself from his characters.
http://www.dailyactor.com/tv/michael-kenneth-williams-the-night-of/