What Songs Did Katharine McPhee Sing For Her 'Smash' Audition?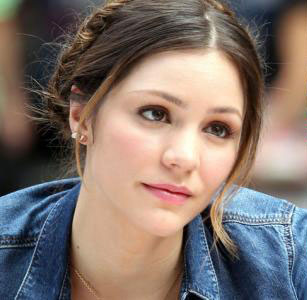 Even series leads have to audition. 
Katharine McPhee remembers all too well her audition for the NBC backstage drama Smash.  "I sang something from Thoroughly Modern Millie for my audition," she said in an interview with PaperMag.  "They flew me to New York and I was starting to get sick.  I could barely sing and my voice was cracking.  They were like, 'It's okay, we know you can sing.'  But I tried to get through it.  I tried to sing 'I Don't know How to Love Him' from Jesus Christ Superstar too.  It didn't come out so well, but it was more about the scene work so I just had to wait for Steven Spielberg to watch the tape.  And a few days later, I got the part!"
As an actress who grew up performing in musical theater productions (and appearing on American Idol), McPhee has enjoyed working with Broadway legend Bernadette Peters—who will also show up on the second season of the show.
"Yes, she's back!  I grew up listening to all of the Sondheim soundtracks and my mom was a big Sondheim freak," McPhee said.  "So, Bernadette is the most amazing person to work with.  The people who have as much success as actresses like Bernadette usually have the least amount of drama and diva-ness.  The ones that have been around for ages—there's a reason why they're as successful as they are."
Smash will be back on the air on NBC next year.
http://www.dailyactor.com/wp-content/uploads/2016/08/imperium_daniele_radcliffe.jpg
Daniel Radcliffe on Playing a Neo-Nazi in 'Imperium': "It's still just horrible to say some of this stuff"
Radcliffe reveals how he played such a layered character and what it felt like to say his character's hate-filled dialogue.
http://www.dailyactor.com/film/daniel-radcliffe-playing-a-neo-nazi-imperium/
http://www.dailyactor.com/wp-content/uploads/2016/08/John-Cho-Star-Trek-Beyond.jpg
How John Cho Took A Stand for Diversity Early in His Career
"When one does speak one's mind, one might be surprised at how receptive people are." - Actor John Cho
http://www.dailyactor.com/film/john-cho-took-a-stand-for-diversity/
http://www.dailyactor.com/wp-content/uploads/2016/08/simon-helberg-florence-foster-jenkins.jpg
Simon Helberg on His 'Florence Foster Jenkins' Role: "I'm an actor and I want to stretch different muscles"
Helberg spoke about portraying his character in the film and whether or not he feels typecast by his Big Bang Theory role.
http://www.dailyactor.com/film/simon-helberg-florence-foster-jenkins-role/
http://www.dailyactor.com/wp-content/uploads/2016/08/Will-Chase-Something-Rotten.jpg
The Role That Got Away: Will Chase on Returning to 'Something Rotten!'
"I know that I am a poor man's fill-in-the-blank. And I know that there are poor man's Will Chases out there. That's just the nature of the business" - Will Chase
http://www.dailyactor.com/broadway-theater/will-chase-something-rotten-role-that-got-away/
http://www.dailyactor.com/wp-content/uploads/2016/08/Julia-Stiles-Jason-Bourne.jpg
Julia Stiles on the Jason Bourne Series and Growing as an Actress: "There's always room for improvement"
"I like a director that encourages me to be playful. I don't really like being restricted or controlled by a director." - Julia Stiles
http://www.dailyactor.com/film/julia-stiles-growing-as-an-actress/