John Slattery Remembers Auditioning for Don Draper and Divorcing His Real-Life Wife on 'Mad Men'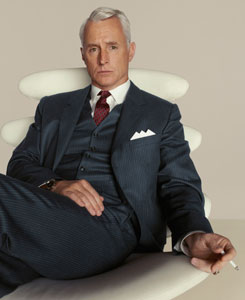 Can you picture Mad Men's John Slattery as Don Draper instead of Roger Sterling? As he recalled in a recent interview, Slattery originally auditioned for the lead role that eventually went to Jon Hamm.
"I went to the audition and they said, 'Oh, sorry, we've got that guy, you can try for someone else.' In my arrogance I thought, "'What? You haven't got that guy, I'll show you. You haven't got that guy because I'm that guy,'" the 49-year-old told Shortlist.  "It was apparent from the beginning how annoyingly good (Hamm) was in that role. I don't think people appreciate how difficult it is to play something as subtle as he does."
Slattery, who has won several awards for his role as a womanizing, alcoholic advertising executive on AMC's hit 60s drama, was also able to succinctly pinpoint the show's overarching theme, a feat that's caused writer's block for many a TV reviewer.
As he explained, it's all about the pursuit of happiness for the mad men at ad agency Sterling, Cooper, Draper & Pryce.
"They're all just looking for happiness. I think that's what it is all about with these characters on Mad Men," said Slattery. "They want something and they get it — and then they're disappointed. That's the show in a nutshell right there."
What was it like divorcing his on-screen wife, played by Talia Balsam, who is also the real-life Mrs. Slattery? "I was reading the script, lying in bed next to my wife, and neither of us at that point had any idea the divorce was coming," he remembered. "I read the script, didn't say a word other than, 'Goodnight' — then shut the light off. There was no way I was going to be the man to break the news that she was being written out."
http://www.dailyactor.com/wp-content/uploads/2016/02/alicia-Vikander-Ex-machina.jpg
Alicia Vikander on the Her First Trip to L.A. and the Acting Tip 'Ex-Machina' Director Alex Garland Gave Her
"You [get immersed in] a film and of course you think that that is it. And then you go away and you read a new script and you have a new crush" - Alicia Vikander
http://www.dailyactor.com/actors-on-acting/alicia-vikanderacting-tip-ex-machina-director-alex-garland-gave-her/
http://www.dailyactor.com/wp-content/uploads/2016/02/Channing-Tatum-Hail-Caesar.jpg
Channing Tatum Talks 'Hail, Caesar!': "I've been beating on the Coens' door for years, man"
"It's the most I've ever prepped for a six-minute section in a movie." - Channing Tatum
http://www.dailyactor.com/actors-on-acting/channing-tatum-hail-caesar-tap-dancing/
http://www.dailyactor.com/wp-content/uploads/2016/01/Isidora-Goreshter-Shameless-audition.jpg
Isidora Goreshter Remembers Her Audition for 'Shameless'
Goreshter recently recalled that her audition for the 'Shameless' was by far her worst ever.
http://www.dailyactor.com/actors-on-acting/isidora-goreshter-audition-for-shameless/
http://www.dailyactor.com/wp-content/uploads/2016/01/Sutton-Foster-Younger.jpg
Sutton Foster: "Sometimes I won't even find a character until I put on the costume"
"I never had grand aspirations to be a movie star, to be famous or to be on TV. The theater was what I wanted." - Sutton Foster
http://www.dailyactor.com/actors-on-acting/sutton-foster-younger-character-costume/
http://www.dailyactor.com/wp-content/uploads/2016/01/Paul-Giamatti-Billions.jpg
Paul Giamatti on Building His Career: "I was always willing to just go, 'OK, sure, I'll do that'"
"I've done everything an actor can do except porn and performing in an amusement park" - Paul Giamatti
http://www.dailyactor.com/actors-on-acting/paul-giamatti-billions-building-an-acting-career/